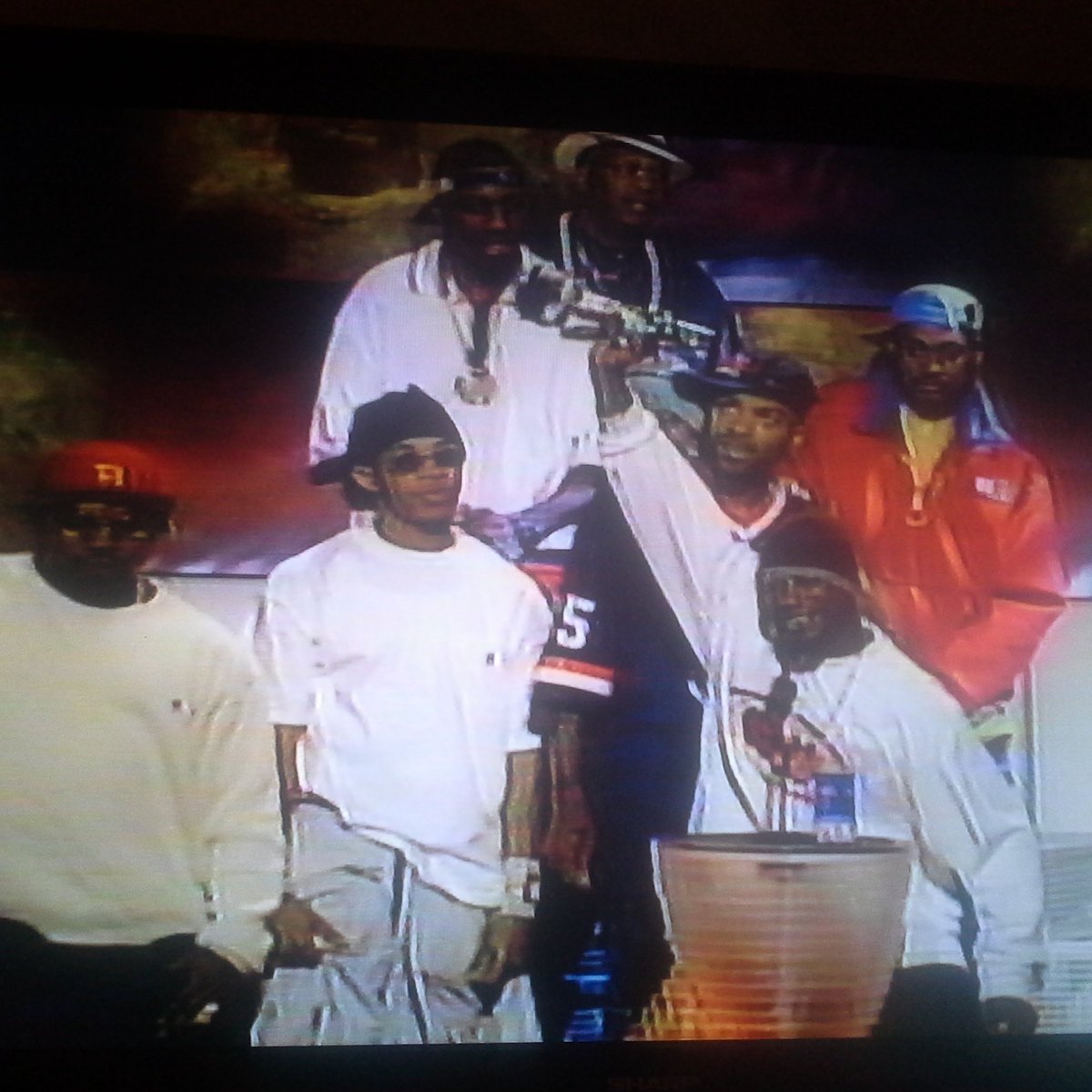 We still haven't seen any MTV Classic, although we DVR'd the stuff that looked most interesting over the weekend. We'll get around to it eventually.
We found a fun-looking tape labelled "1997 Video Music Awards / Radiohead Live at the 10 Spot / 120 Minutes with Marcy Playground." And we were happy to discover that nearly all of the VMAs from September 4, 1997 was included with red carpet intro, post-awards outro, and most of the commercial breaks.
#1 The Death Count: 1997 didn't present as many dead celebrity appearances; instead, there seemed to be countless tributes to people who had died only recently.
- Princess Diana died 5 days prior on August 31st. Madonna spoke about her for at least 2 minutes. The Spice Girls dedicated their performance of "Say You'll Be There" to her memory, plus Sporty Spice mentioned it during their VMA acceptance speech. There were at least two other tributes - I know Elton John spoke at one point, but I don't remember if he mentioned Diana. LL Cool J may have mentioned it also.
- "Mo' Money Mo' Problems" is one of our all-time favorite songs (
#38 in fact
), which makes it all the more upsetting that we've been forced to place the "Mo Money Mo Problems"/"I'll Be Missing You" medley as our 2nd-worst performance of the night. MTV retrospectives have frequently cited the surprise guest appearance from Sting among their most cherished live moments. At the time, we found it kind of confusing and weak, and 19 years of hindsight has not changed this particular POV. The strongest and most heartfelt tribute to Biggy came later as "I'll Be Missing You" and "Hypnotize" picked up awards providing Biggy's mom a chance to say "Big ups to Brooklyn" and speak publicly for the first time.
- Sublime won "Best Alternative Video" for "What I Got" which didn't result in a tribute as extensive as Diana or Biggy. In fact, the drunken acceptance speech from the bassist (Eric?), the drummer (Bud?), their DJ (Miguel?) and Brad Nowell's wife (or at least we think it was his wife) was very lighthearted and jokey. Towards the end, the bass player finally said "this is all for Bradley Nowell," followed by the drummer saying something to the affect of "a lot of people have died recently for really stupid reasons, and it needs to stop."
- Puffy and LL Cool J both briefly mentioned Gianni Versace who passed away over the summer.
- Actual death count: Left Eye performed with Lil' Kim, and ODB presented an award with Wu-Tang. Not nearly as intense as 2 years prior.
#2 Highlights
- Marilyn Manson was clearly the most exciting moment of the night, closing the ceremony with "The Beautiful People." This also provided Chris Rock with arguably his best response of the night: "Run to church! Get your ass into church! Or you're going to hell."
- Wu-Tang Clan was brought out to the podium not to accept an award, but to introduce the "Ladies Night" performance from Lil Kim, Left Eye, Missy Elliott and Da Brat. In fact, Wu-Tang weren't nominated for any awards. So then, exactly how did Ol' Dirty Bastard obtain the moonman that he's waving around during their monologue?
#3 Other notes
- Chris Rock is probably the greatest VMAs host that's ever happened. Even when the stuff he said seemed wrong or inappropriate or incorrect or stupid, he still delivers every joke with that classic Chris Rock charisma.
- LL Cool J was the first hiphop artist to receive the Video Vanguard Award. And Mark Romanek was the first non-singer or non-band to receive the award for video direction. We always appreciated Romanek's speech about how the upper tier - the top 2% of the best music videos - may have provided the world with some of the best film making of the '80s and '90s.
- During the pre-show, Foo Fighters played "Monkey Wrench" and "Everlong." We're not sure if it made it onto live TV or not, but afterwards Pat Smear announced that it was his last show in Foo Fighters. He wouldn't play with them again until 2011.
- Bruce Springsteen played "One Headlight" with The Wallflowers, but as we watched the performance, their drummer grabbed our attention. No way, is that Matt Chamberlain? Wikipedia confirms that he played in Wallflowers throughout 1996-1997 before performing on Fiona Apple's
When The Pawn
which is how we typically associate his drumming style.
- Pretty sure Hanson was present but won nothing. They were nom'd for Best New Artist, which went to Fiona Apple, whose acceptance speech was clearly the greatest of the night and possibly the entire decade.
- Best Director wasn't presented on TV, but somehow Beck won the award despite being up against Jonathan Glazer, Hype Williams, Mark Romanek and a Dayton/Ferris collab with none other than Joel Schumacher.
- Prodigy may have been our least favorite live performance of the night. We love "Breathe," but the vocal performances were just straight garbage and nothing that deserved to be on the VMAs.
- Jewel was supposed to sing "Foolish Games" but instead made a last minute change without telling anyone and played "Angel Standing By."
- This may have been near the close of the era when presenters and monologues weren't treated as seriously as in subsequent years. Busta Rhymes, Adam Sandler, Fiona Apple, Chris Tucker, David Arquette and John Popper all treated the teleprompter as if there were a huge "optional" sign pointing in its direction. Busta, Sandler and Fiona all seemed especially stoned while Arquette may have been coked out of his mind.