We may be slightly vomitous ourselves for being the only web-source whose year-end wrap-up takes three entire months from start to completion. But in either case, here's the last of it. We don't usually surpass 20 songs, but this was the most difficult list to narrow down that we've had so far, and so 30-21 will be listed quicker than the rest.
30. Double Take "Hot Problems"
For those wondering why
"Hot Problems"
isn't #1, we view the two girls in the video as self-aware, bratty and entitled. Although we could be dead wrong since they haven't done much to capitalize on their fame, it looks like they're jealous of people like Rebecca Black and Tay Zonday who became famous making bad songs by accident. In this case, they made a shitty video on purpose, for a song that was poorly written and poorly sung on purpose. Anyone placing them in a "worst of the year" list falls right into their trap. We fucked up just by mentioning them here, but at least they won't receive an image alongside their placement.
29. Demi Lovato "Give Your Heart a Break"
28. Ed Sheeran "The A Team" / Ed Sheeran "Drunk"
27. Alicia Keys featuring Nicki Minaj "Girl on Fire"
26. Olivia Newtown John featuring John Travolta "I Think You Might Like It"
25. One Direction "Live While We're Young"
One of our associates heard
Demi Lovato
at the grocery store the other day and was irked. Or maybe he was miffed. One of those two.
"The A Team"
and
"Drunk"
embarrassed us almost as much as
Alicia Keys,
which unfortunately places Minaj in our list for the third year in a row. (
She came close with one of her own.
)
Olivia Newton John and John Travolta's song
could have easily placed higher, but for some reason we felt bad for them, maybe because they got old n stuff.
One Direction
could easily have placed once or twice more if this had been extended to 40 songs, and the same can be said for Green Day:
"Kill The DJ"
just barely missed out.
24. Ke$ha featuring Iggy Pop "Dirty Love"
23. Sonic Boom Six "Virus"
22. OneRepublic "All The Right Moves"
21. Shinedown "Bully"
We love Ke$ha, but her
her Iggy Pop collab
unfortunately defines "shit sandwich."
Sonic Boom Six
is the first band we've noticed combining "alt-rock" with a watered-down, boring and non-bizarre version of Die Antwoord. One of our patrons heard
OneRepublic
at the gas station the other day and he was a tad bit miffed. Irked, even.
Shinedown
capitalizes on the anti-bullying trend, and in the process records the funniest song from the upper portion of our Ultra-Vomit.
-------------------------------------------------------------------------------------------------
Okay, now for the REAL vomit. The shittiest turds of 2012:
20. fun. "Some Nights"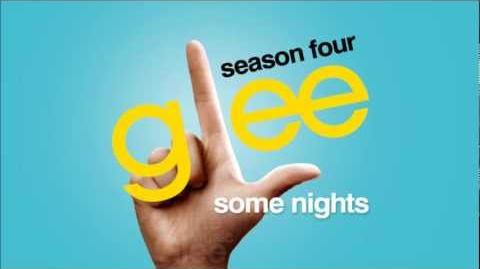 "Jack my style?" Oh please... How many styles could have possibly been jacked within one 4-minute song?
"Oh Cecilia, I'm down on my knees, I'm begging you please to come home"
sung by REO Speedwagon's guest-appearance on
Glee
. We also hear
Little River Band's "Help is on its Way"
sung by a soulless Lindsay Buckingham, although that's doing it too much justice. (Not to mention "This is it boys, this is war" getting lifted from
"99 Luftballoons."
) This guy's own narcissism hugely blocks any "soulfulness" his vocals might have ever possessed. We've also noticed some misguided reviewers throwing around
Queen comparisons
. Oh puh-leeeeze... They're not even close. Fueled By Ramin continues its reign as the most obnoxious "rock" label in the world. ("Rock" in quotes because they pretty much only sign bands that incorporate "alt-rock" with drama-club Rocky Horror bullshit.)
| Youtube |
19. WZRD (Kid Cudi & Dot Da Genius) "Where Did You Sleep Last Night"
One of our current era's most torturous singing voices collab'd with some unknown producer for a project called WZRD, including a cover of Leadbelly's "In The Pines," performed in the same style as Nirvana and Mark Lanegan in the early 90's (and adopting their alternate song title as well). While we're unfamiliar with Leadbelly's version, the soulfulness and emotion in Kurt and Mark's covers has been unsurprisingly removed. Kid Cudi's painfully off-pitch vocals add nothing to the song's weak and uninspired guitar performance.
| Youtube |
18. Pitbull "Back in Time" / Dyland & Lenny featuring Pitbull & Beatriz Luengo "Sin Ti (I Don't Want to Miss a Thing)"
Only a year after Black Eyed Peas' abysmal interpolation of "I've Had the Time of my Life," Pitbull uses the same idea, sampling yet another song from
Dirty Dancing
, sadly securing inevitable platinum status through download sales. Possibly even worse, some dudes named Dyland & Lenny called upon Pitbull a few months later to vomit up some bilingual nonsense for a flopped techno version of Aerosmith's "I Don't Want to Miss a Thing."
| Youtube "Back In Time" |
| Youtube "Sin Ti" |
17. Twenty One Pilots "Holding On To You"
Yet another Fueled By Ramen artist with a horrible band name. Unsurprisingly, the video is more of the same drama-club Rocky Horror bullshit, just like the fun. video posted earlier. The instrumental portions could have been potentially decent (if you think "Hope it Gives You Hell" by All American Rejects or "Falling to Pieces" by The Script were decent songs), but then all hope was unfortunately destroyed by the vocalist. Dude-bro thinks he can rap, reaching for a cross between Eminem and that Gym Class Heroes guy, and then throwing in one of those annoying Owl City choruses (sounding super-2009 to us). If you can make it past 2:30, you'll reach a boring piano bridge section building to an additional section with some "funky" rap stylings.
| Youtube |
16. Godsmack "Rocky Mountain Way"
We're pretty sure The 'Smack is our least favorite of the sleekly produced Varsity Blues post-Creed butt-rock bros that include the immortal Disturbed, Staind, Hinder, Alter Bridge, Shinedown (the types of bands who have their shitty songs licensed to Go Army commercials), and a bunch of bands from the early 2000's that don't chart anymore. And of course, who could forget Nickleback and Audioslave. While Audioslave's grating-headache drone placed them as our worst rock band of the 2000's, Godsmack is still the worst of these who are still actively charting. And boy are they ever...
A quick glance at their singles discography
reveals that EVERY Godsmack single has charted on mainstream rock radio. This means that their 2012 throwaway placeholder single actually received decent airplay, revealing a lame attempt at surpassing their narrow limitations with a soulless Joe Walsh cover. "Rocky Mountain Way" already sucked bad enough as it was. Here's hoping all parties involved are enjoying their millions.
| Youtube |
15. Owl City "Shooting Star"
Thank God. The world was so empty without Owl City's monotonous Kermit The Frog robot-boner pushing its way into an insufferable collaboration with Carly Rae Jepsen. Luckily, this may have been a fluke since no one gave a fuck about "Shooting Star," his other 2012 single, and his TENTH attempt at a comeback song since "Fireflies."
Prolificness means nothing when your music is unlistenable.
Worse than Nickleback.
| Youtube |
14. Lisa Gail Allred "3 Second Rule" / Lisa Gail Allred "Coffee or Tea"
We were almost starting to feel bad including these two songs. But then we found
her ReverbNation account
. Anyone who sings this horribly who can also afford ReverbNation is fair game. We normally prefer avoiding "meme" jams in our ultra-vomit lists, but Lisa Gail Allred seems to have made a strong effort to push her singles as "legit" despite poor production value and an even worse vocal performance (and with such a intensely strong Texas accent), although our perception views the songwriting and videos as equally shitty to 80% of the stuff on VH1 Country.
| Youtube "3 Second Rule" |
| Youtube "Coffee or Tea" |
13. Chris Brown "Don't Wake Me Up" / Swedish House Mafia featuring John Martin "Don't You Worry Child"
Generic house and generic trance have been stabbing our skulls with more sharpness than in recent years. "Don't Wake Me Up" could have been sung by literally anyone, and it would have sounded exactly the same. No one would have cared if the artist name were one of those faceless techno acts, but since it was sung by the undisputed King of the Woman Beaters, people were dumb enough to push it into the Top 10. As for Swedish House Mafia, the inclusion of John Martin may have assisted "Don't You Worry Child" in inventing a new subgenre called post-Creed-trance. (Apparently this was their swan song or something... We'd never heard of them until 3 months ago.)
| Youtube "Don't Wake Me Up" |
| Youtube "Don't You Worry Child" |
12. John Boy & Shawty Boy featuring Soulja Boy "Drug Dat Hoe"
Normally we would simply pass over something like this as nothing especially noteworthy, although the lyrics of "Drug Dat Hoe" made us especially sick. They're literally singing about roofying - slipping chicks the date rape drug. Pretty offensively disgusting. We would fight these guys. Name the time and place. If you know these guys, leave comments. We wanna meet them. Let's make it happen. Some dude in the Youtube comments says "Drug Dat Hoe is ATL slang." Okay, well what the fuck else could it possibly mean? We're checking Urban Dictionary, and nothing's coming up. Scumbags.
| Youtube |
11. Gifted But Twisted "Six Pack"
"Gonna P90X all over your face." Nerdy emaciated douchebag finds himself inside of a beer commercial surrounded by Playboy titties, and he celebrates by bouncing around shirtless and shouting "check out my six pack." Two hours after the video shoot, Daddy drives him back to his palace, and douchebag weeps as he realizes that none of the babes gave him their correct phone numbers and have already blocked him on Facebook. Five weeks later, Daddy lands him a coveted position perusing Excel spreadsheets down at the firm, so everything worked out in the end.
| Youtube |
10. Flo Rida "Whistle"
A no-brainer... We hate Flo Rida. We hate "shorty got Low;" we hate "Right Round" and "Good Feeling." And even worse, we hate whistling. There are maybe 6 or 7 songs ever made with whistling that we don't hate. Two of them are on Ween's
Pure Guava
:
"I Saw Gener Cryin' In His Sleep,"
which contains the most amazing whistling solo of all time, and
"Don't Get 2 Close 2 My Fantasy."
As for Flo Rida, "Whistle" raises the bar for his specific brand of truly shit music, presented as possibly the un-sexiest tribute to blowjobs that we've ever heard.
| Youtube |
09. Benjamin Bloom "Weird and Wonderful"
Apparently, the nonconformist kids who used to listen to Marilyn Manson have started "mellowing out" to Yanni and John Tesh. Wait, no they haven't. They're still into BrokeNCyde. This video is lying. No one who dresses like the people in this video could ever possibly prefer this shit to NIN or Tori Amos or Rancid. No one's THAT dumb. (Oh wait... We just got that this might be some Christian dude trying to convert nonconformists like how the Tammy Faye channel used to push Jesus onto skater kids in the 90's.)
| Youtube |
08. Big Time Rush "Windows Down" / Big Time Rush "Music Sounds Better With U" / Devlin featuring Ed Sheeran "Watchtower"
2012 issued a massive overload of exceptionally amazing vomit, and so we had no other choice but to tie our choices for the most egregious samples of the year, respectively
Blur's "Song 2"
(it was only a matter of time),
Stardust's "Music Sounds Better With You"
(huge bummer) and
Jimi Hendrix's version of "All Along the Watchtower."
The first two arrive courtesy of BTR, who Nickelodeon just picked up for a fourth season, so obviously they're earning Viacom serious cash in some way or another. Meanwhile, Devlin and Ed Sheeran similarly infused watered down elements from Jimi Hendrix, effectively displaying nothing more than the producer's ability to acquire licensing rights and establishing total creative impoverishment. In a just world, these guys would have discovered heroin instead of Jimi.
| Youtube "Windows Down" |
| Youtube "Music Sounds Better" |
| Youtube "Watchtower" |
07. Three Loco "Neato"
Porno-bro turned MTV VJ turned comedian/rapper Simon Rex formed a "hiphop/comedy" supergroup with Andy Milonakis and Riff Raff. "Neato" is actually worse than this description implies, mostly pulling influence from when Eminem tried to be funny. As a result, it feels like a dated relic from the 2000/2001 portion of TRL's reigning era. Shit jokes, shit rapping, shit production, and possibly the most irritating chorus of 2012. The video also awkwardly inserts a cameo from the weird mute chick in Kreayshawn's "Gucci Gucci" video.
| Youtube |
06. Wallpaper. "FUCKING BEST SONG EVERRR"
He's the same tool who remixed
"Combination Pizza Hut & Taco Bell,"
a song which everyone expected to attain mainstream ubiquity, but instead was confined to Pitchfork's "Best New Tracks" and the iPods of college nerds. Two years later, Wallpaper returns, attempting to take advantage of the invisible void that followed the breakup of LMFAO. The song's form closely follows "Party Rock Anthem" and "Starships," choosing 3 or 4 unfun and uninteresting elements and disjointedly combining them all into one song, most notably the "chorus with no drums" followed by the shitty "drop" section. The worst part is clearly the lyrics, with its chorus emulating a drunken sloppy 3AM dorm-room conversation: "You are my fucking best friends, seriously, it's like the best night ever." (These are the actual lyrics, people.) Wikipedia suggests that he is "satirizing the lack of feeling in mainstream pop," and to be honest we laughed at its absurdity when we first heard it, although nothing in this song suggests outright satire. That's the problem with shit like Wallpaper and The Lonely Island... A lack of darkness surrounds their "sense of humor." If the chorus had unexpectedly concluded with a lyric like "I wanna fucking kill myself," or "Eat shit and die" (appropriately stating our feelings about this song), then it might have saved itself.
| Youtube |
05. Of Monsters and Men "Little Talks" / Imagine Dragons "It's Time" / Mumford & Sons "I Will Wait" / The Lumineers "Ho Hey" / Philip Philips "Home"
Civil-War-wave fake-indie is the most magical and beautiful thing that's ever happened to music. It's not vapid or shallow or formulaic at all. We love it when they bang on their stupid fucking pots and pans and chant things like "hey!" and "ho hey!" So much depth, you guys. Banjos and mandolins and washboards and stomping on the floor is so fucking cool. These bands are so rebellious and challenging and are so vital to the current musical spectrum, and they're certainly not single-handedly destroying any last hope that modern rock stations could ever return to playing actual rock music ever again. Fleet Foxes and Avett Brothers are the most important bands of all time. I wish I was fucking dead.
| Youtube "Little Talks" |
| Youtube "It's Time" |
| Youtube "I Will Wait" |
| Youtube "Ho Hey" |
| Youtube "Home" |
04. The Offspring "Cruising California"
Were The Offspring ever sincere? This is the question that remains. In the
"Self Esteem"
video, that dumbass singer dude wears the classic "GERMS" shirt, in order to portray Offspring as possessing punk cred. Even though they were on MTV, they needed to present themselves to teenagers as a "real" punk band, and so they wore t-shirts of scuzzy 70's punk bands with dead lead singers. Nirvana fans likely also took notice when recognizing their name as Pat Smear's first band, even though approximately 99% of Nirvana fans had never heard a single note of Germs' music. At the time, they were one of the most popular band names that got thrown around by high school kids who had no idea how their music sounded. In retrospect, the t-shirt was probably a well calculated marketing decision. This is the perspective that "Cruising California" has handed over to us. It's like finally making it to the last episode of
Lost
just to discover a really horrible ending that makes the entire series seem like a complete waste of time. Throughout their 29+ years of existence, Offspring have never once been sincere or honest. If you fell for it, you've been had.
| Youtube |
03. Macklemore & Ryan Lewis "And We Danced"
Oh good, more joke-rap. Their big hit "Thrift Shop" is sorta ok... However, "And We Danced" sends us into straight-up "kill myself" mode, taking simplistic who-gives-a-fuck Andrew WK party lyrics and dumbing them down to a degree of nausea, rapped and sung with an obnoxiously bad fake-UK accent over a monotonous down-tempo one-dimensional dance beat that literally goes nowhere. That chorus approaches a degree of "horrifying" nearly parallel to "2 Girls 1 Cup." At the moment, we can't imagine anything less fun to play at a party.
| Youtube |
02. Karmin "Brokenhearted"
This might possibly be one of those bands that got famous on Youtube making their own videos like Pomplamoose (whose
"Batman" cover
barely missed out on this year's vomit only because it's shorter than 2 minutes). Dr. Luke apparently lent a big hand in this song's form and production, which is weird because this means that the male non-singing member of Karmin probably had nothing at all to do with their biggest hit song. Luke's presence also explains the individual elements directly taken from his previous hits with Katy Perry and Ke$ha, repackaged in full-on clone-mode. For the most part, we get irrationally angry whenever we see anyone closing their email messages with "cheers;" it never occurred to us that "cheerio" might piss us off even more.
Didn't Pip from South Park use that word?
"Oh, cheerio Damien!"
And then he would like, get his ass kicked not long afterwards. Maybe this is why the girl's love interest leaves... Stop thinking you're the shit by using stupid fucking words like "cheerio." And while you're at it, stop wearing horribly embarrassing clothes, and refrain from "rapping" for the rest of your life, and like, maybe work on the frowny-puss a little.
| Youtube |
01. will.i.am featuring Britney Spears "Scream & Shout"
"It's Britney, bitch," originally from the 2007 song "Gimme More," still stands as the single most obnoxiously overrated thing to appear in any pop song in the past 10 years, which just happened to appear on
Blackout
, the single most overrated pop album of the last 10 years. It's more overrated than the anti-rockist critical splooge-fest that happens every time Beyonce or Taylor Swift do literally anything. It's probably even more overrated than "Fuck You" by Cee-Lo Green. For "Scream and Shout," will.i.am - the undisputed worst hit-maker of the past decade - samples this vapidly cringeworthy soundbite and places it alongside Britney herself who supplies lazy vocals with a bad-UK accent (essentially a bad Lady Gaga impression). Will.i.am more than likely stole the super-weak "hook" that goes "oh-we-oh-we-oh" from some shitty reverb-laden 2007 indie-pop record. Also watch out for
Hit Boy's remix version
(released in 2013 or else it would have been our #1) featuring even more phoned-in vomit courtesy of Waka Flocka, P. Diddy and Lil Wayne.
| Youtube |