Guess we should finally get around to posting this... It's been laying around for a while unfinished... Top 40 in 2011 was an abortion, blah blah blah.....
20 Heart2Heart "Facebook Official"
Heart2Heart's winning combination of poor production value, crabcore haircuts, slightly-off-time/slightly-flat vocals and gigantic lolz made us hugely nostalgic for 2Gether, MTV's "joke but also not a joke" boyband (with Chris Farley's brother) which became one of our favorite shows of the early 2000's. The huge obvious difference is that "Facebook Official" doesn't seem intended as a joke. Like a mini-Rebecca Black of sorts, except Rebecca's song/video exudes endless joy even after 50 views, whereas Heart2Heart is really only funny for the first minute or so... (Gym Class Heroes tried to do something similar back in the MySpace days with the huge bummer single
"New Friend Request."
Rule #1: Pop songs that refer to social technology will always suck dem dix.)
http://www.youtube.com/watch?v=Pt4AWNui9bg
19 Rich Hil "City Lights"
Aww, isn't that sweet? Tommy Hilfiger's son wants to be a rap star. How endearing... You know when you pinch the end of a balloon and release the air really slowly and the balloon makes that stupid/annoying sound? That's what Rich Hil's voice sounds like. It's also what his face looks like.
http://www.youtube.com/watch?v=xXnhx2PvECY
18 Matt Nathanson "Faster"
Fun Fact: Spotify purposely chooses horseshit like Matt Nathanson to play in their ads, because the commercials might seem enjoyable if they actually chose to promote good artists, and then no one would ever upgrade to premium. And yes, it worked on us, but at least our ears are free of the frat-boy sub-Dave Matthews posturing. This guy probably has probably paid to see Dane Cook's stand-up at least twice.
http://www.youtube.com/watch?v=ZyjQFdeFox8
17 Insane Clown Posse featuring Jack White & JEFF The Brotherhood "Lech Mich Im Arcsh"
Fuckin toothbrushes... How do they work?
Completing the ICP meme-trifecta that launched with the incredible
Gathering Of The Juggalos infomercial series
(one of our favorite June rituals!) and 2010's
"Miracles"
video. Fellow Detroit-dude Jack White's sense of humor normally averages at a zero out of ten, so this project is somewhat perplexing to us, although he can totally get away with silly one-off projects since his cred-arsenal is fully loaded. And plus, he didn't even have to play on it... Strangely enough, JEFF The Brotherhood might be the only other garage band with an even worse sense of humor than Jack White.
http://www.youtube.com/watch?v=ZR0MUiRDrP4
16 Nicki Minaj featuring Rihanna "Fly"
We're positive that she STILL hasn't learned her lesson about flooding her albums with bullshit like "Fly" or "Right Thru Me." More repetitive assey 1-5-6-4 shit. Hard to believe this song is actually shorter than 4 minutes. It feels closer to 9.
http://www.youtube.com/watch?v=3n71KUiWn1I&ob=av2e
15 Jessie J "Who's Laughing Now"
In the tradition of Lady Sovereign, Joss Stone and Lily Allen comes yet another completely nondescript UK popstar desperate to break into the US market. Seemingly out of nowhere, MTV-U started spinning 5 of her videos all at once not long after she landed a coveted TV appearance singing prior to EVERY commercial break during the VMA's. And STILL nobody cared, probably because she doesn't have much to offer the US; neither her mediocre music nor her nondescript presence fills any specific void within the world of pop. We don't expect her to stick around much longer, despite that she's apparently cracked the top 10 with a song called "Domino" which has yet to get stuck in our heads. While Jessie J's breakthrough single "Price Tag" barely missed out on our worst songs of the year, we were unable to forgive the malignant drudgery of "Who's Laughing Now." Just FYI, shallow descriptions of revenge almost always resemble the opposite of fun, and this is no exception. (She's so nondescript, she didn't even have a good meme for us to post.)
http://www.youtube.com/watch?v=KsxSxF3JKeU
14 Toby Keith "Red Solo Cup"
TK's attitude just doesn't sit well with us, as if he's singing on behalf of all "true Americans," and anyone who doesn't hang onto his every word with a sincere smile-and-nod can GTFO. He claims that anyone drinking beer out of a glass must not have male reproductive organs, even though glasses are what every bar in the Western hemisphere uses to serve beer. "Not in MY country they don't." Fuck you Toby. The old-people-party in your video looks about as fun as waiting in line at Walmart.
http://www.youtube.com/watch?v=BKZqGJONH68
13 Kate Miller-Heidke "Are You Ready"
New York Lottery advertising can be thanked for drilling this one into our collective cerebellum. Indie-pop's equivalent of Chinese water-torture. And it just keeps getting louder and more obnoxious as the song progresses. God help us. (Fair warning: The video is fucking CREEPY.)
http://www.youtube.com/watch?v=scckwzeyzMo
12 will.i.am featuring Jennifer Lopez and Mick Jagger "THE"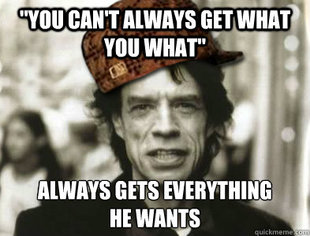 "I woke up in the morning / Hard like morning wood in the morning." "Imma go hard like a mothafuckin' boner." These are the actual lyrics, people. Shortly after Ke$ha scored a huge hit where she figured out that "swagger" rhymes with "Mick Jagger," Mick's already inflated confidence shot through the roof, enough that he became once again convinced that he contains any modern relevance whatsoever. Not long afterwards, his guest-vocals were awkwardly inserted into the afterthought coda of will.i.am's latest track, literally titled "THE." Somewhere, Jann Wenner from
Rolling Stone
magazine is furiously masturbating.
http://www.youtube.com/watch?v=vjIwmJMqrco
11 The Black Eyed Peas "Just Can't Get Enough"
This reminds us of being forced to sit through little sister's dance recitals, year after year, specifically the parts where 9-year-old girls were forced to sing solos. They usually sang Paula Abdul or Michael Bolton, or various awful showtunes, or something from a Disney movie. There was one chubby girl trying to "act cute" who sang "I love you, a bushel and a peck..." This is what Fergie's vocal performance on "Just Can't Get Enough" has brought to mind. Nothin' but bad memories on this end... We know Stacy Ferg takes it to heart whenever people negatively judge her vocals. And we know she's talented enough to do better than this. And yet, bullshit is all she ever delivers. Why on Earth would she choose to sing the hook like an untrained 4th-grader, and then expect people to take her seriously? Makes no fucking sense.
http://www.youtube.com/watch?v=OrTyD7rjBpw
10 Hot Chelle Rae "Tonight Tonight" / All Time Low "I Feel Like Dancing"
Both of these basically sound like watered-down clones of All-American Rejects' "Hope It Gives You Hell." Even if you've never seen either video before, trust us, you definitely have... "Tonight Tonight" opts for the overused "bound by the shackles of the workforce environment" premise, while "I Feel Like Dancing" uses the stale "record exec sits the band down in his office and gives them tips on how to become more marketable" thing previously seen in videos by Dr. Dre and Sum 41. Keep it fresh, guys...
HCR:
http://www.youtube.com/watch?v=QzlNFcT2aOE
ATL:
http://www.youtube.com/watch?v=MTJkE8Ki3Gg
09 Porcelain Black featuring Lil Wayne "This Is What Rock N Roll Looks Like"
Beavis & Butthead
's return included some unexpected odd changes to story-structure, and a
Jersey Shore
clip in virtually every fucking episode (which was only funny the first 2 times). Predictably, the new season's only truly consistent moments took place while they were ripping a new asshole into a few modern music videos. And thank God this finally happened... While they didn't rip apart every aspect of the shit-music-spectrum as we were hoping, their choices of "suck" were fucking spot-on...
Earl Greyhound: Sounds like third-tier Lenny Kravitz to our ears, and worked just as well as any bluesy/jammy Black Keys/My Morning Jacket bullshit.

Avi Buffalo: Painfully boring, fluffy, suburban indie-rock with extra reverb on everything. "I think this is music for white people who have never had anything bad happen to them." http://www.youtube.com/watch?v=jZlgVE5sORo

3Oh!3: Arguably the best moment of the entire season. "It's like, both of these guys look like asswipes, but in completely different ways." http://www.youtube.com/watch?v=KNaH_Uf2B4w
So yeah anyway... Porcelain Black was another one these, and completely deserved every public insult. "Featuring Lil Wayne" has become the tag for some of the worst songs of the past 5 years, as he's lately enjoyed associating himself with the worst fusions of rock, pop and hiphop that have ever been on the radio... combining all these elements into a gigantic shimmering glossy elephant turd.
Beyond that, it's probably best to just let B&B do their thing...
http://www.youtube.com/embed/i9LCHgpzfxQ
08 Pink "Raise Your Glass"
Two singers in a row named after colors. Both are horrible. Max Martin is pretty much finished with his reign of pitch-perfect-pop craftsmanship, especially now that all of his most frequent collaborators (like Britney Spears and Pink) love to get their filthy hands into the creative process and so they can throw in amazing lyrics like "What's the dilly yo?" "Oh shit, my glass is empty / That sucks," "Party crasher / Panty snatcher / Call me up if you a gangsta / Don't be fancy / Just get dancey / Why so serious?" And of course, it still hit #1, so what the fuck do we know?
http://www.youtube.com/watch?v=XjVNlG5cZyQ
07 Cher Lloyd "Swagger Jagger"
The phrase "structural nightmare" comes to mind, thanks to a disjointed verse/chorus pairing. Obnoxious sub-Fergie-esq sing-talking leads into the chorus, awkwardly borrowing 90% of its melody from "Oh My Darlin' Clementine." Its bloated production sounds as if instructions were followed from a how-to manual of 2011 pop music; any chance of fun emitting from Cher Lloyd has been completely removed thanks to over-compression and misuse of auto-tune.
The song title suggests Mick might be alluded to in some way, but at no point in "Swagger Jagger" is the phrase ever actually defined. Instead, she remains insistent on her noteworthy swagger, repeating "You can't stop looking at me, staring at me..." practically begging the world to check her out in the song's equally nightmarish green-screen video. As it turns out, she #1 can't dance, #2 dresses like a fucking homeless person, and #3 wears the type of hairstyle that girls usually have while they're being dragged to an asylum, screaming in a straightjacket. Call us crazy, but this whole "consciously dressing like you don't know how to dress" hipster-irony trend is now akin to tragedies along the lines of the Iran hostage crisis.
http://www.youtube.com/watch?v=sdbyG2MrBHk
06 Cee-Lo Green "Fuck You"
AIN'T THAT SOME SHIT.
http://www.youtube.com/watch?v=pc0mxOXbWIU
05 Brian McFadden "Just The Way You Are (Drunk At The Bar)"
Taste My Kids presents: An incomplete history of sexual assault in rock and pop music...
1991: By this point, the issue was considered too taboo for mainstream radio airplay, although punk, hiphop and metal discussed the issue in great detail.

1992: Tori Amos starts getting popular.

1993: Nirvana's In Utero hits #1 in several countries, containing the infamously controversial "Rape Me," later issued as a single and still receives moderate radio spins to this day.

1994: Hole's Live Through This includes songs such as "Asking For It."

1995: KROQ in Los Angeles starts spinning Sublime's cautionary single "Date Rape."

1996: Fiona Apple releases Tidal. Also, the compilation album Home Alive includes tracks by artists such as Soundgarden, Pearl Jam, Nirvana, The Posies and Joan Jett, intended to fund a women's self-defense collective that was formed after the death of Gits vocalist Mia Zapata.

2011: Brian McFadden releases his latest single in which he tells a drunkenly wasted chick, "I can't wait to get you home to take advantage." A banjo is included during the breakdown "rap" section, where he goes into date-rape detail. Progress!
Brian used to be in some boyband called Westlife that no one outside of England remembers or cares about, and it's quite possible that this song killed his singing career... Although, he was already a judge on some shitty singing-contest TV show by the time of this song's release, so he will unjustly not be serving us tacos anytime soon.
http://www.youtube.com/watch?v=qhft4WmMJeM
04 Gym Class Heroes featuring Adam Levine "Stereo Hearts"
We're starting to lose some steam... That's usually what happens right around #4... God, what to say about this one... The biggest memories we have of "Stereo Hearts" are within the first 2 or 3 seconds, because that's normally how long it takes for us to reach over to the radio and change the station after hearing Adam Levine's stabbing falsetto. Bad frat-rap follows soon after. Sounds like a hit.
http://www.youtube.com/watch?v=T3E9Wjbq44E
03 Jason Derulo "Don't Wanna Go Home" / The Black Eyed Peas "The Time"
"Stealing the hook from a 20+ year old song that drunk girls love to sing at bars and making that the chorus of your new single" isn't exactly a new trend, but it somehow blew the fuck up in 2011. One of the only non-abysmal examples was in
J Cole's "Work Out,"
that song with the hook borrowed from Paula Abdul's "Straight Up," which seemed to only exist so that 20-somethings can turn to their friends at the bar and drunkenly ask, "HEY, IS HE SINGING THAT PAULA ABDUL SONG?" with a super-serious look on their faces, which seems to be the only reaction this song ever receives.
Jason Derulo raped Robyn S's "Show Me Love" with a dildo called "Day-O," one of the most cop-out hack jobs of sampling in its history, almost as if Derulo and his producer buds sat down and actually tried to think of a huge enough WTF-moment to really make people question the current state of pop music. He's another one of those dude's who's scored multiple major hits, but no one knows his name because he has no personality whatsoever, kinda like the R&B version of Seether or Hinder. More like Jason Deru-LOL.
http://www.youtube.com/watch?v=2CGF_Z3yZAo
An even bigger WTF arrived with "The Time," which happened after Will.I.Am googled "top 100 wedding reception requests" and decided he wanted to sample all 100 of them, starting with "I've Had The Time Of My Life" by Bill Medley. The B-section is virtually identical to "Boom Boom Pow." Quite a formula. We hear their next album will be mostly sampling deep cuts from Jock Jams 2 & 3.
http://www.youtube.com/watch?v=JwQZQygg3Lk
02 Bad Meets Evil featuring Bruno Mars "Lighters"
"Lighters" is truly a landmark in the history of vomit, in which Bruno Mars' vocal melody totally rips off "Superman" by Five For Fighting, a song from ten years prior that was far better left forgotten. Thanks for the reminder, asshole. Bruno also finally took off his hat in 2011, revealing an uber-lame 50's-hairdo, making us wish we hadn't made fun of his hat so much. It turns out that Eminem is part of this "Bad Meets Evil" thing, and at this point we'd love nothing more than to wipe that fucking scowl off his face. What the fuck is Eminem so fucking angry about? No one wants your negative energy around. Fuck off.
http://www.youtube.com/watch?v=YWt4wmZ_EMI
01 Bruno Mars "The Lazy Song"
Wow, this year's list was NOT easy to get through... It never is. And here we have our #1... It's tough to say whether the video on its own causes us more personal trauma than the song... It may be best to consider "The Lazy Song" one of those where the song and video are forever associated with each other. Frat-boy bro-hipster-douchebag Skrillix-poster next to the "Dark Side of the Moon" poster next to the John Belushi poster next to the lava lamp next to 115 empty PBR cans... You'll be initiated into our elite club if you pay us thousands of dollars and dance in a stupid fucking video that we're going to post on Youtube. How bad do you wanna fit in? We'd be willing to bet dudes have gotten laid by claiming to be one of the dancers in this video, which is both disturbing and very sad.
We didn't get to embellish on this earlier, but "Fuck You" (also written by Bruno Mars) is easily the most overrated song released since January 1, 2010. For whatever reason, people responded to its supposed juxtaposition, clashing the innocence of vague 60's Motown elements (even though it doesn't sound like 60's Motown, but instead more like Maroon 5) with curse-words and bitterness. Both "Fuck You" and "The Lazy Song" possess a vague "silliness" that doesn't quite register as actual humor, with both cases seeming intended to appeal to baser instincts. "Hey, I feel like being lazy too. I like this guy. Haha, did you hear that? He whistled. Hah!" What is it about songs with whistling that makes us want to go on a stabbing spree? This one especially kills our soul (our "collective soul?"), far worse than the "Pumped Up Kicks" or "Moves Like Jagger" whistling sections... It's got this smug fucking "as a matter of fact" aura that generates so much anger...
Is that it? Are we really done? Thank you God...
http://www.youtube.com/watch?v=fLexgOxsZu0