We wish this was finished. The hell that OCD puts us through is so uncool. We just don't want to do this anymore. We want to play videogames. We want to watch SVU. We want to smoke pounds of weed and do nothing on a Sunday night. But we can't. Instead, we do Hot Mix 2012. Because we are slaves within our own bodies. No control whatsoever. Someone please help. This is torture. The writing in these blurbs isn't even good. It's downright embarrassing. God, make it stop. Please.
Hot Mix 2012 on Spotify
|
#100 - 91
|
#90 - 81
|
#80 - 71
|
#70 - 61
|
#60 - 51
|
|
#50 - 41
|
#40 - 31
|
#30 - 21
|
#20 - 11
|
#10 - 1
|
40. Japandroids "The House That Heaven Built"
"They're old stuff is better" is a subjective statement typically associated with too-cool-for-school "hipster" types. However, our extreme devotion to Japandroids' 2009 LP
Post-Nothing
and the three non-album singles that followed in 2010 were destined to lead us to slight disappointment. One of those three a-sides ("Younger Us") appears on their 2012 LP
Celebration Rock
, and it's still our favorite song on this album. We may be alone in assessing it as a slight drop in quality.
Post-Nothing
and those 3 singles were all recorded in 2008/2009, when Brian and David had no clue that their band might become their full-time job. The resulting effortlessness shone in moments such as the lazy sludge-jam
"Crazy/Forever,"
which repeats the same 2 lines of lyrics over and over for six minutes, and the urgent vocal delivery in
"Sovereignty."
"It's raining in Vancouver, and I don't give a fuck, 'cause I'm far from home tonight." Youth is effortless. Being in love is effortless. Being alive is effortless.
Celebration Rock
still exudes these same ideas, except their flow has been supplanted by earnest heavy-handedness. But despite our super-fan opinions, Japandroids may have cornered the market for the critical consensus of "rock single of the year" with "The House that Heaven Built," a song that sounds way more like an emo-grunge version of The Arcade Fire than anything they've released so far. And besides, the album is still full of great songs, with "The House that Heaven Built" specifically containing probably the most quotably awesome chorus of the year. Expect its arrival in more than a few high school yearbooks come June 2013.
39. Todd Terje "Inspector Norse"
Post-high school teens who like Cut Copy and Robyn and 80's dance shit are into this song (apparently) as we learned not long ago when some kids who fit this description kept us up very late listening to jams such as these. From the floor above, we could decipher that one teen wasn't into "Inspector Norse" as much as the rest, and switched it to a different song, leading 3 or 4 kids to immediately shout things over the 2-second silence such as "awww" and "heyyy" and "what the fuuuuck," bummed out that their jam had been vetoed. "Inspector Norse" isn't a radio hit per se, but at least certain pockets of youth culture are enjoying it. Like
Caribou's "Sun"
from a couple years back, it reminds us of the type of jams that used to be on MTV's
Amp
. We love the bridge section's towering largeness compared to the playfulness of the returning theme-section that follows. The song continues for over 6 minutes, but could have been just as effective stretched-out for twice that length.
|
Soundcloud
|
38. Red Dwarf "Magic Missile"
The catchiness, the angular tension, the gratuitous profanity, and the scream-along choruses on Red Dwarf's lone full length - a posthumous 22-song release titled
Tell Your Parents You Want Ballz This Christmas
- found its way under our skin during the Spring of 2012, unfortunately not long after witnessing one of their final few shows. It's been years since we've discovered a band able to use sloppiness to such grand effect, while simultaneously jam-packing so many earworms into such an enormous sprawling collection. Despite the number of songs, nothing whatsoever about Red Dwarf suggests "trying too hard," a huge component of what makes them so compelling. "Magic Missile" (the song we used to refer to as "that one with the cool harmonics") turned out to be the earworm that got stuck most often. Ultimately, we ended up preferring the 2011 EP's version because of the delivery of the word "fuck" during the breakdown section. Also, they're yet another band (like those mentioned
in our Hooking Up blurb
) who got us psyched but then ultimately split before the year's end. In this case however, an intense light at the end of the tunnel is shone by Butter The Children, a similarly aggressive, far dreamier and more pop-based quartet formed by two of Red Dwarf's members over the past year. Signs are pointing towards their 2013 full-length as among our most anticipated releases.
37. And You Will Know Us By The Trail of Dead "Bright Young Things"
This is probably not the case, but have these guys been listening to
Isn't Anything
? We hear the punch from some of those 80's My Bloody Valentine tracks like
"Feed Me With Your Kiss"
or
"Nothing Much To Lose"
covered by
Zen Arcade
-era Husker Du. "Bright Young Things" and the majority of
Lost Songs
are probably their best shit since 2003's "Crowning of a Heart" (and more in tune with the sound of that era than anything they've released since). It's great to hear that they've been able to tap back into the artistic explosions heard on their first three albums. We know they have more new awesome songs like this waiting to be unleashed. Trail of Dead is back. Praise the lord.
|
Youtube
|
36. King Tuff "Swamp of Love"
Imagine Marc Bolan reincarnated, except entirely American, and without the devoted following of teenagers, and slightly more introverted. This is what a lot of King Tuff's self-titled sounded like to us. Unsung highlight "Swamp of Love" executes some of the same relaxed perfectionism heard on
The Slider
- going as far as to include spot-on Flo & Eddie style backing vocals – and injecting a personalized center that's entirely Kyle Thomas. T.Rex is one of those bands like Nirvana that hundreds-of-thousands have unsuccessfully attempted to emulate, unable to realize that guys like Bolan and Cobain were skilled experts at writing the types of songs that made it sound like anyone could do it. King Tuff is the first band since Burning Brides (whose last good release was about 10 years ago) to get our attention by actually matching the serious skills of one of his most obvious influences. "Swamp of Love" got our attention for being this album's grandest statement, building and climaxing at all the perfect moments. Bolan would have approved.
|
Soundcloud
|
35. Tame Impala "Keep On Lying"
Sounds like someone tried to make a radio edit out of one of those psychedelic 60's jams that took up an entire album side, like
"In-A-Gadda-Da-Vida"
or probably something by Vanilla Fudge, except the edits didn't fall in the most expected radio-friendly places. It fades in only two minutes before the solo section (the part of the song everyone wants to hear anyway) and then fading out almost immediately after the singing section returns. The crucial vocal parts not only establish the catchy vocal melody, but also plainly establish the theme, stating the frustration and guilt that coincides with a relationship built around lies, destined to crumble. The psych-out section then slowly progresses under a bizarre dominant laugh-track. It's not like when Janet Jackson giggles or the creepy belly-laughs on
Dark Side of the Moon
. As they appear between bits of whispered inaudible conversation, it becomes fittingly difficult to determine whether these laughs are genuine. A climax arrives around the 4-minute mark when a second unexpected guitar solo appears, suspiciously similar to the cathartic back-and-forth stabs heard from John Lennon's solo in
"Yer Blues."
All the while, the laughter and conversation persist, confusion and guilt continue building... It's only a matter of time.
|
Youtube
|
34. Kitty Pryde "Okay Cupid"
Remove oneself from the idea that "Okay Cupid" is "rap" or "hiphop" but instead exists in and of itself. The sample sounds like one of the warped and possibly backwards-spun outro sections from
Loveless
, trippy as hell, and truly unique within this context. The non-dancey-sounding drums exist only to establish a sense of rhythm, which is then (seemingly) ignored by Kitty Pryde, who chooses a vocal-rhythm that might just barely line-up. Her style of "rapping" isn't really comparable to anyone else we've heard in the past. Her voice, dialect, delivery and the song's subject matter work wonders to piss off purists unable to fathom the idea of the blogosphere's brief infatuation with something that's actually fresh and different. Yeah, she sounds like a privileged, suburban, millennial, materialistic valley chick. But we don't think it's really HER. We think she's playing a character (since in a different song called "Justin Bieber," she claims to be a 13-year-old, when in reality she's actually surpassed voting age). Her shockingly effective delivery arrives with an unexpected layer of depth thanks to her soft-spoken demeanor. Her immature, childish and carefree words are not in touch with the obnoxiousness that many female rappers tend to use as a crutch for attention, while the trippiness of her sample-choices suggest buried self-awareness. She may not yet know how smart she is. P.S. People got pissed about Kitty Pryde because cute chicks with freckles aren't supposed to get people's attention through music, or something. This took place for about two weeks in May of 2012. By September, she was pretty much forgotten. So no harm done. Her haters jumped the gun. Take a chill pill.
33. Batcave "Stereovision"
Another band we were lucky enough to catch only weeks before their last performance, Batcave's sparse gothic-punk stood out for us the most after hearing the crunching dissonance in the opening chords of "Stereovision." We're not sure if their normal lineup included a dude who just stood there shaking things, but he was there for this show. Also they possibly pushed each other over at the end of the set. At any rate, we were bummed as hell to learn of their split not long afterwards. Up the upside, they stuck together long enough to grace us all with one of the year's best releases.
32. Miguel "Gravity"
2012 kicked ass because it's finally looking like some newer and far more talented singers are arriving who can finally push douchebags like Chris Brown out of the spotlight. We were also happy to notice an upsurge of non-album tracks filling up this year's Hot Mix. We didn't expect any of these to be from R&B geniuses, and yet here we are. Miguel kicked off the year with a series of 3 mini-mixtapes titled
Art Dealer Chic
, Volumes 1, 2 and 3. Volume 1 concluded with "Gravity," one of his grooviest and grittiest sex-jams, and probably his most immediately enjoyable head-nodding intro section, as opposed the majority of the
Kaleidoscope Dream
LP's grower-tracks that start to sound their best around the 15-20th listen. In this respect, "Gravity" was best left as a standalone jam, although it's a shame that more people won't get to hear it. (Edit: Turns out "Gravity" actually was included on the CD, but it was only available on a limited-edition version that you had to buy at Target or something. LAME.)
31. Toro Y Moi "So Many Details"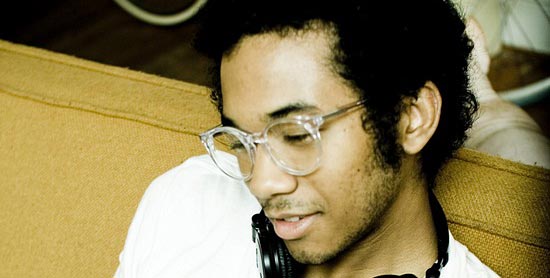 Did anything else from this album get released yet? Would it be out of line to label this as Toro Y Moi's best song to date? It's gotten us psyched as hell to hear the rest of his new stuff. "So Many Details" is probably the best single from the "chillwave" subgenre since Neon Indian's last LP. We're not even sure if anyone refers to this type of music as "chillwave" anymore, but from what we can recall, it started getting heavily recognized around the summer of 2009 as dudes and chicks who record by themselves exclusively using analog recording technology. Three years later, analog is probably more commonplace and less bizarre than it used to seem. If it exists as an option, why not use it? Why should it have to be condemned simply because of nostalgic fashion-dummies giving it a bad name? It still provides the same refreshing sense of warmth not heard within digital technology. And plus, it's hugely affordable. 6-packs of cassettes are still available at CVS for under $5. Analog also provides no risk of hard-drive failure. It's a simpler medium that's easier to salvage. "A look back on simpler times" is an unfortunate common underlining theme of hipster preference, but sometimes the canvas looks better within a different medium.
|
Soundcloud
|
| Continue to Page 3 |
Hot Mix 2012 on Spotify
|
#100 - 91
|
#90 - 81
|
#80 - 71
|
#70 - 61
|
#60 - 51
|
|
#50 - 41
|
#40 - 31
|
#30 - 21
|
#20 - 11
|
#10 - 1
|