Hot Mix 2012 on Spotify
|
#100 - 91
|
#90 - 81
|
#80 - 71
|
#70 - 61
|
#60 - 51
|
|
#50 - 41
|
#40 - 31
|
#30 - 21
|
#20 - 11
|
#10 - 1
|
60. Ryan Power "I Don't Want to Die"
Is this ridiculous or genius or both? Similar to Ariel Pink in sonically paralleling the intricacies of AM Gold singer-songwriters, Ryan Power structurally ups the ante, approaching from more of a theme-and-variation standpoint than verse-chorus. His A section is followed by a B section, but the next time A and B appear they arrive with unexpected appendages and attachments, transforming into alternate C, D, E and F sections before returning back to the original intro run…. If that makes any sense. So yeah, I guess THIS could technically be considered "progressive" (a term often misused in 2012 rock journalism) although what makes it interesting has more to do with delicate tone and texture, as well as a string of surprisingly catchy vocal melodies that could just as easily have filled an entire album's worth of songs in the hands of a different writer.
|
Soundcloud
|
59. Odd Future "Oldie"
Earl Sweatshirt's first appearance in nearly two years still generates smiles. We don't think it would be out of the question to label "Oldie" as an "event" type of song, coupling the context of Earl's exhumation with the largeness of the song itself, which somehow actually sustains itself as exciting over the course of its nearly 11 minutes. Playfulness wasn't normally as prevalent in noteworthy hiphop prior to 2012, although Action Bronson and Joey Bada$$ have been lending a hand in this area. "Oldie" fits into this category as well, which is both its strongest and most perplexing attribute – perplexing because of the lyrical contrast with Tyler The Creator's curiously ominous choice of beat. While we were prepared to label Jasper Dolphin's unfortunate insertion (between two relatively giant names, Frank Ocean and Earl Sweatshirt of all people) as a low-point, it's actually the song's most obviously playful and "who gives a fuck" moment. This is the real Odd Future: the Wolf Gang we've been waiting for.
|
Youtube
|
58. Jason Lytle "Your Final Setting Sun"
We seem to recall last Spring when web-announcements of a Grandaddy reunion album were floating around. Perhaps these were rumors? Maybe they're just taking their time... If it's not happening, then we're assuming Jason Lytle's
Dept. of Disappearance
was intended for new Grandaddy. But if it's simply taking longer than expected, then tracks like the outstanding "Your Final Setting Sun" (his best since 2003's
Sumday
) are a very good indication that they've been up to no good, brewing some serious-ass
Sophtware Slump
-style awesomeness. We miss the weirdo robot noises and bizarro arrangements. Hoping these guys come back very soon.
|
Soundcloud
|
57. Carly Rae Jepsen "Call Me Maybe"
Tagged by millions as the most colossal megaton chorus since "Since U Been Gone," which is possibly accurate. But what about the verses? Does "Call Me Maybe" have verses? Upon relistening, the answer seems to be "yes," although they are largely forgotten by 99% of the people who know of this song's existence. This is because the writers discovered an awesome hook and then formed the other song-related elements entirely around it, instead of crafting it into something that sounds complete, an unfortunately wasted opportunity to create some magic because the music-biz CEO's were all like "this needs to be released now, we need a hit so I can get my kids on My Super Sweet 16." But while it's a still hugely overrated as a whole, the chorus is too perfect to not be recognized among the year's best.
|
Youtube
|
56. Bruno Mars "Treasure"
As the market for "nostalgia" increases in largeness with every passing year, it becomes more inevitable to notice a few borrowed ideas getting used to create something that's actually fresh, instead of simply repackaging the same shit with a glossier exterior. When we saw Bruno Mars' recent album described as "10 songs that sound like 10 different 80's bands," we were mostly skeptical since this same guy was responsible for our worst song of 2011, as well as three other appearances in our "worst songs" list since the start of this decade. We'll be the first to admit when a shit artist surprisingly steps up their game; we just had no idea that it would be Bruno Fucking Mars of all people. But it happened!
Unorthodox Jukebox
is shockingly not horrible! In fact, it's actually somewhat listenable as a whole, with his "X-Factor contestant" vocal-style as the album's only true turn-off. However, within the context of "Treasure," his singing style actually fits. We doubt "Treasure" has any chance of getting radio airplay, although we might have thought the same about "Locked Out of Heaven" which has turned into somewhat of a mega-hit in the past 3 months, so who knows? "Treasure" pulls more directly from the late-90's and early-2000's version of disco-nostalgia. More than half of Jamiroquai's catalog is based around this idea. Britney Spears also tried this out in 2001 on one of our favorites of hers, the album track "Anticipating." So yeah, somehow Bruno Mars actually put out a bunch of songs that don't completely suck. No one's more surprised than we are.
|
Youtube
|
55. Tame Impala "Elephant"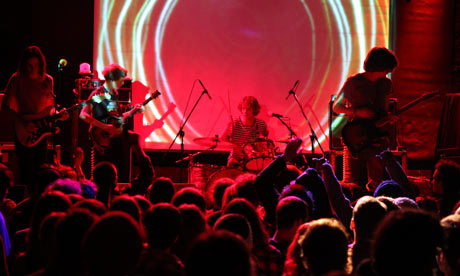 Eat dem drugs all day err day. "We were somewhere around Barstow on the edge of the desert when the drugs began to take hold." That moment when the simple experience of enjoyment ascends into "balls tripping holy fucking shit" territory, a.k.a. when "Elephant" switches from the vocal section to the psychedelic guitar jam, a.k.a. when baby Dumbo gets drunk by accident with the mouse dude and they see all the purple elephants dancing around. Afterwards, the outro section includes the final drum fill and "yeah!" followed by the abrupt cold ending, when you suddenly come down with no memory of what just transpired.
|
Soundcloud
|
54. Mr. Dream "Believing and Shitting"
Thanks to meticulous attention to detail in the mixing, mastering and songwriting-structure on Mr. Dream's "Fatherland" EP, it wouldn't be entirely difficult to confuse this record with an authentic lost 1979 punk relic buried deep within John Peel's vast collection. We're psyched as hell that any NYC bands are still interested in playing this kind of music while still writing songs that are entirely worthy of attention. Taking cues from PiL, Stooges and Big Black with a hint of Wolfy Mozart in the song's title, well-paced side 2 opener "Believing and Shitting" packs the same urgency as that which is normally associated with late-decade or pre-millennial or pre-apocalypse tension ("everyone knows it's the end") concluding with a mysterious open-ended coda section.
|
Soundcloud
|
53. Frank Ocean "Lost"
"Lost" might be more of a continuation of
nostalgia,ULTRA
than the rest of Frank's newer stuff, both in sound and theme, creating a trifecta of sorts with "Novacane" and "Swim Good" which we believe to be among his most drug-influenced and earwormy singles to date. All three express a desire to break away, or in this case, "get lost" in the moment. We're not sure if
Channel Orange
was meant to express a flowing narrative in the same way as
good kid, M.A.A.D. city
, but it raises our suspicions when it appears after "Pyramids," which already appeared after two songs about class separation, "Sweet Life" and "Super Rich Kids."
|
Youtube
|
52. Pile "Prom Song"
Sometimes the long-distance runner is on a shit-ton of speed pills.
Dripping
's sequencing suggests meticulous planning, starting and finishing strongly. An intense momentum especially builds during one of the most ass-kicking 4-song middle sections in recent memory, with "Prom Song" as its crowning moment. After "Grunt like a Pig" concludes the intense chase sequence, "Prom Song" starts with the "peaceful sunrise" intro segueing into a pummeling guitar riff, complimented perfectly by the sparse rhythm section. Pile's signature tension-building leads them to one of the year's best and most soulful guitar solos, played from atop an especially gigantic mountain. From up above, long-bearded God obliges, throwing up the devil-horns as he rides his chopper across the sky desert.
51. Kendrick Lamar "Swimming Pools (Drank)"
"Drinking songs" have a surprisingly wide spectrum of categories, a fact that only occurred to us after hearing "Swimming Pools." Kendrick's meditation might appear alongside Hank Williams jams or Johnny Cash's "Sunday Morning Coming Down," exploring the psychological aspects of self-medication. On the opposite side of this spectrum, one might find soulless frat-douchiness such as Toby Keith's "Red Solo Cup," or songs exploring freedom from stress and enjoyment-of-life, an effort to forget problems with fun instead of depressingly drowning out our sorrows, in songs such as Andrew WK's "Party Til You Puke." Kendrick's sped-up soliloquy in the second verse (which we didn't realize was him at first) pushes this exploration to an even deeper level.
|
Soundcloud
|
| Continue to Page 6 |
Hot Mix 2012 on Spotify
|
#100 - 91
|
#90 - 81
|
#80 - 71
|
#70 - 61
|
#60 - 51
|
|
#50 - 41
|
#40 - 31
|
#30 - 21
|
#20 - 11
|
#10 - 1
|