Seriously, why are we doing this right now... This is hell.
Spotify playlist has been updated:
http://open.spotify.com/user/mfalc/playlist/3EcgbOnRnTBP1Of7mg4war
|
#100 - 91
|
#90 - 81
|
#80 - 71
|
#70 - 61
|
#60 - 51
|
|
#50 - 41
|
#40 - 31
|
#30 - 21
|
#20 - 11
|
#10 - 1
|
90. Nicki Minaj "Starships"
Easily detestable for detractors of modern pop trends, "Starships" seems purposely disjointed, stuffing 3 or 4 ideas that have little to do with each other into a 3-minute-30-second radio single. It starts with an intro of Katy Perry with Ke$ha sung over it, followed by 30-seconds of Taio Cruz's "Dynamite" with Britney Spears' "Til The World Ends" sung over it, followed by an LMFAO drop, and then it all repeats. Nicki Minaj herself strangely becomes the song's most crucial solidifying factor and possibly an apt description of how ADHD and fucked up her brain gets. Not long after realizing this, we said "fuck it" and gave in.
|
Youtube
|
Hype Machine
|
89. Guided By Voices "Billy Wire"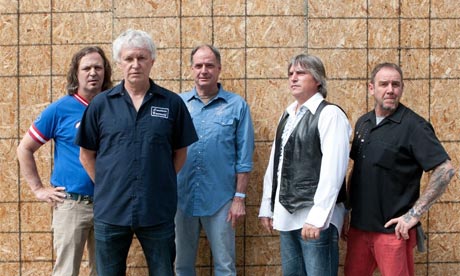 When it comes to GBV, there's no quantity over quality issues. It simply wouldn't be a true reunion of the classic line-up if they actually cared enough to narrow their three 2012 full-lengths (and numerous non-album tracks) down to an all-killer 14-song record. Firstly, it becomes more of an adventure for the listener, and more of a revelation when locating those brand-new instant-classics. Second and more importantly, GBV are so drunk that they might misjudge and exclude a great song or two. Let's not risk the possibility of forgetting "Chocolate Boy" or "Keep It In Motion" when assessing this year's best jams. "Billy Wire" turned out to be our 2012 favorite mostly thanks to the chorus modulation reminiscent of Cheap Trick-flavored 80's power pop.
|
Youtube
|
88. The-Dream featuring Pusha T "Dope Chick"
"Dope Bitch" vastly benefits from the inevitable radio edit. Like many songs that placed in "Hot Mix 2011," "Dope Chick" similarly fails to wrap things up about 60 seconds sooner than it should. But regardless, we still love the sick 90's-beat and the line "Cocaine persona, marijuana, wish she would light trees." No complaints when this shows up on the radio.
|
Soundcloud
|
Youtube
|
Hype Machine
|
87. California X "Sucker"
Huge both in song-length and overall sound, "Sucker" entices the fist-in-the-air scream-along, although phonetically screaming should suffice in this case, since we have no idea what words they're singing, but you can sorta make out the syllables. It doesn't matter though; Colossal cyclops mutants as mammoth as "Sucker" don't usually speak English, but rather make loud deep grunty noises that sound like they could possibly be words. Smash mountains to bits.
86. Frank Ocean "Pyramids"
His understated coolest-dude-ever vocal performance is unjustifiably the least lauded aspect of "Pyramids," but it's easy to understand why. It sounds like two separate songs that need each other to become complete, and as a result, the multi-part experimentation drew early comparisons to
My Beautiful Dark Twisted Fantasy
, except "Pyramids" is far more rewarding than anything on that album.
|
Soundcloud
|
Youtube
|
Hype Machine
|
85. Animal Collective "Moonjock"
Elves working hard in the factory. Santa's workshop? Maybe we're only thinking of that since Christmas just passed. But we received a trippy "seven dwarves" aura from "Moonjock." The abrupt ending is when the boss descends from his office to make sure his slaves aren't having too much fun. Time signature appears to be 7/8, which doesn't surprise us nearly as much as the lack of dumb airchair journalists with no clear concept of progressive-music pulling out the "prog" card.
|
Hype Machine
|
84. King Tuff "Anthem"
Our favorite lazy-summer rock record of 2012 kicks off with the confusingly titled "Anthem," which is either purposely trying to sound like an anti-anthem due to its brilliant slack elements or is genuinely the sound of Kyle Thomas accidentally stumbling across huge riffs and deciding "okay, that's good enough," totally unaware of how enormous it all sounds. The song trades waltz stomp-verses with an instrumental 4/4 chorus. No one in the band, including Kyle Thomas, notices until months later, at which point he decides it sounds sort of anthemic, and decides "Anthem" might be a good enough title. Does this possibility make any sense at all? No. No it doesn't. Ignore everything we just said.
|
Soundcloud
|
Youtube
|
Hype Machine
|
83. Pools Are Nice "Brother (Song For Friends)"
Technically from the second half of 2011, but they're an unsigned Connecticut band so forgive us on the late discovery. They had two 2012 releases since then, but "Brother" still stands out, tremendously benefitting from lofi (possibly analog) distorted production carefully supporting a simple verse leading into a simple singalong chorus. Summer singalongs. Less is more.
82. YN Rich Kids "Hot Cheetos & Takis"
Two major points:
#1 With respect to Chief Keef and all the Pitchfork writers going nuts over "I Don't Like," Keef is the Collective Soul to Waka Flocka's Nirvana. That said, "Hot Cheetos & Takis" – a Youtube novelty hit with no radio airplay and sung by children - is laughably the best post-
Flockaveli
rap single to date, and better than anything on Waka Flocka's 2012 full-length. This sound has hit the wall, and it's time to move on. (It's also refreshing to hear this type of hiphop without a dumb calling-card drop like "Brick Squad" or "Maybach Music" appearing 2-3 times. It's not funny and it's not fun.)
#2 "Hot Cheetos & Takis" is among the most interesting commentaries on America's ongoing obesity epidemic. Apparently Hot Cheetos are deliciously addictive and getting banned from schools nationwide (
http://well.blogs.nytimes.com/2012/10/19/children-like-spicy-red-cheetos-schools-dont/
) due to poor nutritional value, health concerns (as the spiciness and red dye can hurt children's stomachs), excessive red fingerprints, messiness, and the spread of germs encouraged by kids sharing the small plastic bags. We have no idea what Takis are, but apparently they taste rull good.
|
Soundcloud
|
Youtube
|
81. Two Inch Astronaut "Ain't I Look Pretty To You"
From one of the most cohesive split-releases in recent memory, partially a result of Mike Thomas' dual-role as recording and mastering engineer, all 4 songs present an unexpected bonding of genetics between Two Inch and Grass is Green (perhaps an unintentional reflection of the title "Split Dicks"). Our other favorite TIA song from 2012 (
"What's Next"
from
Red Pancake and the Dark Energy
and also featured on our very own
Slut Life
cassette compilation) left us bewildered that they possibly still haven't heard Supergrass'
I Should Coco
LP. However, "Ain't I Look Pretty" displays a notable progression leaving us all bonerfied and psyched for their 2013 release.
| Continue to Page 3 |
Hot Mix 2012 on Spotify
|
#100 - 91
|
#90 - 81
|
#80 - 71
|
#70 - 61
|
#60 - 51
|
|
#50 - 41
|
#40 - 31
|
#30 - 21
|
#20 - 11
|
#10 - 1
|