|
Hot Mix 2013 on Spotify
|
|
#100 - 91
|
#90 - 81
|
#80 - 71
|
#70 - 61
|
#60 - 51
|
|
#50 - 41
|
#40 - 31
|
#30 - 21
|
#20 - 11
|
#10 - 1
|
80. Daniel Johnston "Space Ducks Theme Song"
We're assuming Daniel's comic book (also called
Space Ducks
) includes some contextual explanation for the war in Austin, Texas. Robot quack noises suggest a childlike sci-fi universe starring anamorphic ducks (confirmed by the cover art for the comic itself). His most memorable jam since 1996's "Dream Scream."
https://soundcloud.com/presskit-1/01-space-ducks-dan-version
79. Body/Head "Abstract"
Yes, we know the picture is of Sonic Youth on
The Simpsons
and not of Body/Head, the band Kim Gordon formed with Bill Nace in 2012. (It was tough for us to find interesting Kim Gordon-related memes.) Our video treatment for "Abstract" would show Kim Gordon and Bill Nace confined in adjacent holding cells, belting out the demons of their respective loneliness. The warden doesn't seem to notice or care that pedal boards and amps are keeping them company before all hell breaks loose.
http://www.youtube.com/watch?v=QcEp5gR8rM0 "Abstract" appears to be unavailable to stream from soundcloud, hype machine or bandcamp. we tried.
78. Jay-Z "Tom Ford"
Is this Jay-Z's lame "Don't do drugs" jam?
Magna Carta
officially kicks off the era of "Dad-Rap," stuff that sounds decently modern but mostly appeals to the baser impulses of hiphop fans who are old enough to run for president.* The chorus alludes to hiphop's recent incredibly lame obsession with fashion designers, essentially stating "I'm too dope and important to associate with the same recreational activity as common college freshmen." And while the 8-bit beat took as much shit as the lyrical hook, the song musically still impresses us enough to place as "essential 2013." Call it a guilty pleasure if you'd like.
(*As opposed to nostalgia-rap. Joey Badass loves dem 90s-nostalgia beats, but he's only 18 and raps about fantasy crack-deals. Def not Dad-Rap.)
http://www.youtube.com/watch?v=IkgekVh7oKI
77. Deerhunter "Monomania"
Let's paraphrase Bradford Cox's rant from Deerhunter's appearance at Governor's Ball NYC: "Oil is made from our dead ancestors, and it's being used to provide power for all of the bands that are playing today, so if you think about it, all the bands playing today are being brought to you by our dead ancestors." Seems logical.
http://www.youtube.com/watch?v=bYUENZQ84-E
76. Fake Shark Real Zombie "Get Weird"
A guilty pleasure discovery from
ILX's "Worst songs of the year"
thread. Yes, the song title is literal; "Get Weird" achieves a series of consistently bizarre moments for 3 solid minutes. If the listener doesn't immediately run away in terror (possibly after screaming something to the affect of "this sucks"), repeated listens might eventually reveal a pop song that's probably best described as "inventively dumb" or "creatively stupid." We hear Fake Shark falling somewhere within the realm of "Juggalo-approved rock bands who we probably should hate, but they're actually not that bad at songwriting," i.e. The Bloodhound Gang, Brokencyde and CKY, but with a warped undercurrent reminiscent of Ween and Butthole Surfers. Fellow Ween-fan Henry Rollins approves of Fake Shark enough to supply cameos on their records. WEIRD.
https://soundcloud.com/glassbox-1/fake-shark-real-zombie-get
75. Grass Is Green "Vacation 2.0"
Andy Chevernak says, "It's a dystopia." Jesse Weiss says, "It's a journey." Devin McKnight says, "Don't take your vacation time too seriously. Relax bud." And that concludes our exclusive interview with Grass Is Green on the modern classic "Vacation 2.0," the preview track from their hotly anticipated LP
Vacation Vinny
set for release on January 14, 2014. "2.0" includes what we like to call "The ol' 1-2 switch 'em," in which interim bassist Mike Thomas trades spots with Devin for some tasty guttural baritone guitar with a fat Thee Oh Sees delay pedal. The video is set to debut any day now. Video director Darl Ferm says: "I wrote it, I edited it, I directed it, and I also did cinematography." Let's leave the final word for Grass Is Green fanatic, Sadie Dupuis:
It's hard for me to listen to the bridge of this hot new Grass is Green jawn without hearing the verse melody of Self's "Dog You Are." According to Darl, Andy improvises the lyrics to that part live, so my 2014 resolution is to get him to sing "We all know you're leaving this town."
https://soundcloud.com/explodinginsoundrecords/grass-is-green-vacation-2-0 for some reason the bandcamp embed won't work until the whole album is available
74. Polvo "Light, Raking" / Polvo "Some Songs"
Keanu Reeves and Dennis Hopper negotiate through mind games in the live action Hollywood version of
Grand Theft Auto
. "Light Raking" pumps loudly during the intense bus chase, while "Some Songs" is reserved for the pensive feelings montage. For Polvo,
Siberia
secures their slot reigning among the best reformed 90s indie-bands.
"Light, Raking"
VIDEO: http://www.youtube.com/watch?v=dMa4-d3JW-8
"Some Songs"
http://www.youtube.com/watch?v=hdj4bG1ufVQ
73. Queens of the Stone Age "I Sat By The Ocean"
...Like Clockwork
turned out to be the first Queens album with no re-recordings of previously released non-album tracks. (Last year,
we incorrectly predicted it would include "Nobody to Love,"
Josh Homme's one-off solo jam from a movie soundtrack.) This new era for QOTSA def doesn't skimp on the guest cameos and features stoner anthems like "I Sat By The Ocean," just as large in scope as the biggest jams of their classic 1997-2007 lineage, but with an additional layer of perspective and wisdom that can only be acquired from a well deserved 6-year hiatus.
https://soundcloud.com/qotsa/i-sat-by-the-ocean
72. Ariana Grande featuring Big Sean "Right There"
Actual blatant 90s nostalgia: The direct descendents of Mariah Carey playing Lil Kim to Big Sean's Puff Daddy. Raise the roof.
71. Beyonce "XO"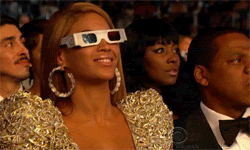 Katy Perry is the presence that signals over-saturation of any hot radio trend. We accurately predicted early in 2013 that Katy's album would certainly arrive with a civil-war-wave influenced radio hit. And it didn't take long before "Roar" finally arrived, just in time to cash-in on dismal washboard/stomping/banjo vomit from the likes of The Lumineers and Imagine Dragons. However, no one could have predicted such an immense ray of light from the most unlikely of places: Appearing as an early highlight on Beyonce's self-titled, "XO" acts as the antithesis of "Roar," essentially justifying the entire civil-war-wave subgenre while supplying the world with its artistic and commercial pinnacle all within the same breath.
Fuck em up.
|
Hot Mix 2013 on Spotify
|
|
#100 - 91
|
#90 - 81
|
#80 - 71
|
#70 - 61
|
#60 - 51
|
|
#50 - 41
|
#40 - 31
|
#30 - 21
|
#20 - 11
|
#10 - 1
|