It's kinda tough to quickly think of meaningful stuff to say about 100 songs.
We were hoping to wrap it up by the end of January. And we failed, but whatever. We're just happy that this has given us incentive to keep TMK alive and active. While we're pretty excited to post about stuff that happened OUTSIDE of 2014 (imagine that), we'll also get around to much easier stuff within the next few weeks: "Hot Mix: The Big List," including the stuff that placed lower than 100, our "Big Boner albums of 2014" or whatever it's gonna be called, and MAYBE a "worse of the year" even though we don't really care about stuff like that anymore.
We've been trying to think hard if the past month has revealed anything that should have placed here, and the only one we can think of that possibly had a shot was "I'm in Love With the CoCo."
Wow, amazing video. And we're kinda shocked that he doesn't look like Fat Joe or Big Pun. Dunno why but we expected him to be a fat-guy rapper.
Yeah anyway... Let's wrap this up.
Playlist is now updated with all 100 songs!
|
Hot Mix 2014 on Spotify
|
|
#100 - 91
|
#90 - 81
|
#80 - 71
|
#70 - 61
|
#60 - 51
|
|
#50 - 41
|
#40 - 31
|
#30 - 21
|
#20 - 11
|
#10 - 1
|
10. Ex-Breathers "Auto-Correct"
Hashtags and clickbait and ad revenue are literally everything. Content is nothing. Is the world prepared for technological armaggedon?
The digital dark age
? Literal #breaktheinternet? Imagine the ensuing chaos. "Well, what do you mean 'it's all gone?' Get it back then." "No, you don't get it. It's gone. The internet is gone. Forever." Riots, looting, violence. The stock market plunges to unforeseen depths as the dollar itself no longer contains value. "Auto-Correct" begins a few moments after all 9 billion of us learn of this catastrophe. Pissed off punk rock hormones explode as the tempo surges. Warning shots are fired: "Dude, you might wanna get the fuck out of here right now because mad bitches is about to get fucked," and within mere seconds everyone's eyes roll into the back of their heads. The world starts projectile vomiting and spontaneously combusting in unison.
9. Vertical Scratchers "Pretend U Are Free"
"How's it goin' ya little shit?" Grandpa bugs the whippersnappers at 1AM, all dazed and woozy for a drunken "good night, kids." They're all like, "oh god, not this shit again." The long-distance marathon runner gets a brief moment of sunshine in between two passing storms. Basically, we're trying to suggest something about how "Pretend U Are Free" fits into Vertical Scratchers'
Daughter of Everything
, a record that was probably one of the most underrated of 2014 and should be considered worthy of reevaluation. For one thing, its sequencing kinda rules. "Pretend U Are Free" is one of the 3 or 4 calming, breezy, refreshing changes of atmosphere strategically inserted among the rest of the album's 11 or 12 quirky, melodic garage jams. It's the cool down moment. Let the pores breathe in some Fender Rhodes blissfulness.
https://www.youtube.com/watch?v=BlZ2onNYcNk
8. D'Angelo "1000 Deaths"
There's one moment towards the end of "1000 Deaths" when D'Angelo lets out an impassioned howl, not unlike the great classic howls in
"Family Affair"
or
"Tired of Being Alone."
It's arguably the crowning achievement of
Black Messiah
, resonating as powerfully as the 45-second chord at the close of
"A Day in the Life"
or the closing guitar solo in
"Paranoid Android."
Framed only within the warmth of the analog and peaking UV meters, it's also an incredibly vulnerable moment, capturing a burning intensity so severe that it communicates just as many words as those within the entire lyric sheet of
Black Messiah
itself. It's a reflection of "1000 Death"s forcefully bold, raw emotion that does all the talking for us, giving purpose to the underemphasized lyrics and obscured vocal hooks. This might be the only instance of a behind-the-beat funk-bass as heavy as
"Boogie On Reggae Woman."
You might not want to play this dead in the center of the party, but it's there for when the pent-up frustration has nowhere else to go. It's a rough, long, intense crawl, and there may be no end in sight, but we're in this together. We'll get through this.
https://www.youtube.com/watch?v=t2r5yqjlVrI
7. Real Estate "Crime"
Summer drivin'. Watch the sun set. We were drivin' uber cars way before we got paid to drive uber cars.
Sometimes you gotta go forwards to go backwards
. Just drive. When Mcconaughey gets all pensive while driving through the mountains, perhaps "Crime" is his soundtrack. It's probably not what he would listen to while preparing for his role on
True Detective
despite the song title. It's hard to say if any hope is suggested through the unresolved chorus. "Crime" isn't really for those moments. Life's problems don't always come to an end so easily. Some days are rougher than others. But at least it's summer, and the tops of the trees are green and swaying back and forth. Take another sip of coffee. Smoke another cig. This is the kind of song that's good for when you're totally out of steam and too unmotivated to think of stuff to say about 100 songs.
https://www.youtube.com/watch?v=4W27sDLLWMc
6. Rae Sremmurd featuring Nicki Minaj & Pusha T "No Flex Zone (Remix)"
On the surface, it's a great summer song that didn't seem like it was going to matter much a few months down the line. But in the moments when ephemeral hits start to sound tired, Rae Sremmurd were only getting started. And out come the subtleties. "Damn." "Yup." "Uhh." "Ho!" All those little call-and-response things are almost their own separate song. And for a while, we didn't think much of its remix until just recently, after realizing that Sremmurd's victory lap verse might actually surpass the original.
"When I slide down the ave I'm fuckin' trippin' (damn) / Maserati black bat, all I wanna know where the cash at / TNT tucked in my 'rillo, hundred racks under my pillow / Different styles I'm so versatile nigga you know like I know."
The same goes for Nicki Minaj's guest freestyle. By the time she's done, the thought of flexing in their zone seems laughably ridiculous.
Original:
https://www.youtube.com/watch?v=p2cQSPRTdhg
Remix:
https://www.youtube.com/watch?v=i8qpdY-kdJY
5. D'Angelo "Prayer"
Sign o' the times. Who else is stoked as hell that D'Angelo may have single-handedly escorted the return of smooth, dope R&B guitar? The past 30 years of R&B placed so much emphasis on keyboards, organs and (especially) piano that it seems like everyone just forgot. But not D'Angelo. He knew all along. Bonus points for anyone who can actually make out all the lyrics of "Prayer" without resorting to Rap Genius. Either way, you don't need to know. It's all feeling. The bell. The handclaps. The eerie drunken warpiness. The backwards vocals? The backwards drums? Are those actually in there or did we imagine it? Even after hearing it for the 20th time we're still not sure. Part of us hopes we never know.
Bonus blurb: We're still processing
Black Messiah
as a whole, a dense journey of musical discovery that we haven't received from a full album since (probably)
OK Computer
. It's about time one of these decades-long follow-ups actually delivered on its promise - basically fulfilling the anticipation we were hoping to receive from
MBV
. (By the way,
Voodoo
was Jan 2000;
BM
was December 2014 - only a few weeks shy of 15 years, not 14. A mute point, granted. Thanx OCD.) We can't help but imagine if the all-time R&B-genius-turned-psychos all returned in the wake of this record and delivered equally brilliant shit. Imagine a true follow-up to
The Miseducation of Lauryn Hill
(which has existed unreleased for nearly 10 years according to Wyclef), or if Maxwell or even Sly Stone could pick themselves up just as stunningly.
https://www.youtube.com/watch?v=pQ6ADCTmaNA
4. Tinashe featuring Schoolboy Q "2 On"
So is "2 On" the same thing as "doubling up?" Like Robitussin and PCP? Or like peanut butter and lobster? Is there a "3 On?" Would it be similar to how celebs are more likely to get hired for work when they're considered a "triple threat?" Would "5 On" be like the 5 members of The Travelling Wilburies? Just some thoughts. While the production never strays from nearing perfection, the true spotlight is reserved for Tinashe's understated starriness, eerily similar to Aaliyah's quiet charisma. You almost couldn't ask for a better introductory single. ALMOST. It wouldn't be completely fair to assess "2 On" without noting Schoolboy Q, who sounds as if he wrote and recorded his verse without closely listening to the rest of the song, like he didn't bother trying because he didn't think the song would be a hit. Aside from "money money money weed fashion," its content is somewhat grating and unfortunate, with too many unnecessary X-rated words. However, a new hook introduces itself only a moment later: "Just gimme the trees so we can smoke it yaaa." Holding that section until the end guides "2 On" with the extra push it required, revealing the song's flawless pacing, so perfect that Schoolboy's blemish hardly leaves a dent.
https://www.youtube.com/watch?v=-s7TCuCpB5c
3. Shellac "Dude Incredible"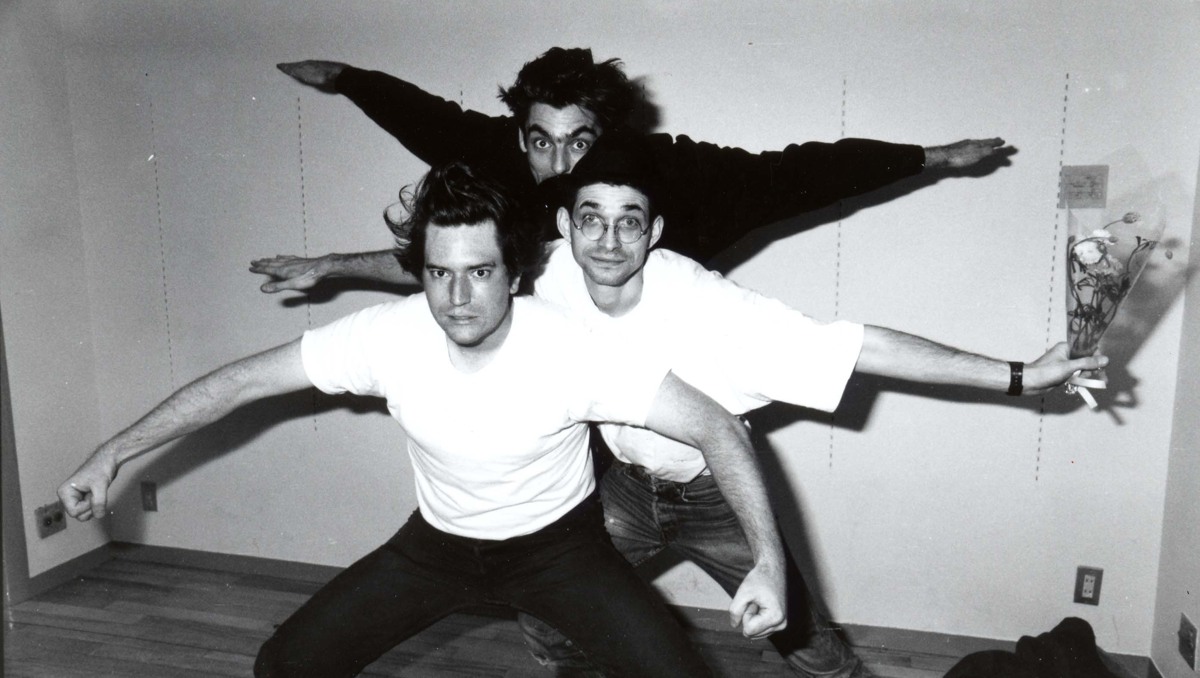 Based on
Albini's song descriptions
, it seems like comparisons to
Lord of the Flies
or
Kid Nation
wouldn't be too far off base. The ominous guitar lick in the intro suggests that some shit's about to go down. And by the time it's done, we may be witnessing a full island mutiny. A lot happens between then and when it's all finished 6 minutes later, which isn't unlike Shellac's previous album openers: It's got that same choking grip as the equally classic (albeit slightly overrated)
"A Prayer to God"
from their
1000 Hurtz
LP, but with the sprawl of
"Didn't We Deserve a Look at You the Way You Really Are"
condensed into a sizeable package that's closer in length to
"The End of Radio."
And all 4 of these songs sound like they could have been on the same record, proving Shellac's timelessness. Another classic to anticipate in future set lists.
https://www.youtube.com/watch?v=StooJzxAfrc
2. Tkay Maidza "U-Huh"
This might be as good a spot as anywhere else to talk about Iggy Izalea and the common misconception that rapping only exists within the spectrum of hiphop. Is the vitriol towards Iggy a result of how she's marketed? She's no more a hiphop artist than Rage Against the Machine or Linkin Park, two hard-rock bands with rapping that aren't exactly eligible for spins on Hot 97. "Shake it Off" has rapping. Is it a hiphop song? No way. And in the same respect, Macklemore and M.I.A. never really felt like bonafide rappers either. So why is Iggy so widely considered a rap artist if she's clearly making (bland and mediocre) pop music? And if she was largely viewed as a pop artist, would more people be able to calm down about what she supposedly represents? Should we also pretend that
Blondie's "Rapture"
never happened and didn't hit #1?
Someone on Singles Jukebox made a great point as well: If critics instead used that same clickbait generating energy to instead praise talent like fellow-Aussie Tkay Maidza, we'd be in a much better position. To be honest, we're not 100% down with labeling "U-Huh" as hiphop either. Perhaps we're just a bit culturally biased here, but hiphop feels like it's mostly a USA-based genre, whereas songs like "U-Huh" (or
"Paper Planes"
for example) are rooted far deeper within pop and EDM. But that's not to say she doesn't have rapping chops, which becomes abundantly obvious after hearing her impeccable flow through the third verse of "U-Huh." It feels like there's about 15 hooks in this song. She dresses cool as hell. Why isn't she a huge star yet? Why isn't she our next door neighbor so we can party and drink with her? (She's about 19 or 20 so we're pretty sure she parties.)
And how are we supposed to pronounce her name?
And what's up with "Chitty Bang Bang?" No one knows what it means, but it's provocative. It gets the people goin'. So many questions. So much mystery.
https://www.youtube.com/watch?v=XvzC4TfsrI0
1. Lil B "No Black Person Is Ugly"
From Lil B's November 2014
lecture at MIT
:
"I appreciate the Black Student Union for making this happen. Everybody should be in the Black Student Union, because we're all black, remember that."
It's always so surprising in those #rare instances when we're reminded that Lil B is actually a remarkably bright and thoughtful dude. His 2010 jam
"The Age of Information"
was one of his earlier jaunts into demonstrating depth beyond singing
"I fucked a thousand bitches"
eight times - not that those songs aren't also amazing in their own way, but they make an extreme curveball like "No Black Person Is Ugly" all the more surprising, especially when the title of the video might raise skepticism or suspicion: "MOST POWERFUL SONG OF THE DECADE?"
We consulted the only two (surprisingly high profile) instances we could find that also placed this among the best of 2014:
SPIN's end-of-year blurb
rightfully compares its "vintage" aura to all-time classics like
"It Was a Good Day"
and
"My Mind's Playing Tricks on Me."
Pitchfork's end-of-year blurb
speculates about a few rhythmic imperfections (typical of his style on nearly every other one of his songs), possibly suggesting Lil B had freestyled the whole thing. If true, it might be among the most impassioned and soulful streams of consciousness in the genre's history, without diverting to a corny or cringeworthy "protest song" vibe. Months later,
Kendrick's "I"
would echo a similar self-love message as a reaction to current events. Lil B's version has been among the least preachiest, most inclusive, most genuine and warmest commentaries on these issues. He's giving us all a big hug and speaking like we're all friends here, just the same as in his college lectures. "I'm tryna see black on more magazines." "My English not perfect." "I hide all the pain." "Tryna make peace with the police." "Stand up against rape. No means no." "Hands up for peace on the streets." Completely essential and necessary. #TYBG
https://www.youtube.com/watch?v=83p69JhDnwU
|
Hot Mix 2014 on Spotify
|
|
#100 - 91
|
#90 - 81
|
#80 - 71
|
#70 - 61
|
#60 - 51
|
|
#50 - 41
|
#40 - 31
|
#30 - 21
|
#20 - 11
|
#10 - 1
|