We forgot we were supposed to keep doing this. Whatever, we're still way ahead of schedule compared to last year.
|
Hot Mix 2014 on Spotify
|
|
#100 - 91
|
#90 - 81
|
#80 - 71
|
#70 - 61
|
#60 - 51
|
|
#50 - 41
|
#40 - 31
|
#30 - 21
|
#20 - 11
|
#10 - 1
|
40. Ovlov "The Great Ohmu"
One of our favorite stray '90s jams happened at the end of 1995 when Pearl Jam's
"I Got Shit"
hit #7 on the Hot 100. "Shit" is an anomaly for PJ, mostly because singer and guitarist Eddie Vedder is the only band member who actually plays on it. The rest of the band is comprised of Chili Peppers' drummer Jack Irons, producer Brendan O'Brien doubling as bassist, and Neil Young (yes, that Neil Young) on lead guitar. As a result, "I Got Shit" also has its own specific atmosphere, separate from the rest of their music. We're gonna guess that Ovlov probably isn't into Pearl Jam, but we couldn't help ourselves from noticing an easy, cheap comparison.
"The Great Ohmu" is also a one-off with different musicians. Alongside
"The Great Crocodile"
and
"Ohmu Shell"
(both performed by the same lineup they've had since 2012), they form an unofficial trilogy of monsters that appeared on three split releases in the summer and fall of 2014, causing at least one confused fan to ask, "Why didn't they just release an EP?" Ovlov were unavailable to comment (as they're currently touring Canada), but we think we hear the reason for this in the songs themselves: They each generate their own specific energy that feels different from any other release they've had so far, which is especially true for "The Great Ohmu." In addition to the one-off line-up, it's the only Ovlov track we've ever heard that sounds like Neil Young (yup, Neil Young again - with Crazy Horse's vocal harmonies, of course) shredding over one of Uncle Acid's more grotesque creatures. It's one of those "Godzilla knocking down buildings in slow motion" type jams that are like catnip for people like us. Again, we couldn't find Ovlov in time for this, but recording engineer Julian Fader was available to speak about the "Great Ohmu" session:
"That's me. I'm drumming. Jesse Paller is playing bass. He's our intern and biggest Ovlov fan. Jesse was shitting himself with happiness. We did it live, and then Steve [Hartlett] didn't want me to mix it. So we just used the rough mix, pretty much. I guess I'm glad about that because I probably would've fucked it up."
39. Disco Doom "Dead Eye"
"Dead Eye" is the song we would play for someone if they asked "what does Disco Doom sound like?" It's probably the quintessential DD-moment of
Numerals
, a wildly inventive record showcasing their mastery for restraint and appropriate placement of weird noises, a psychedelic approach to noise-rock. This is no hippie bullshit. "Dead Eye" includes a quick theme-and-variation, with the theme established in the first minute and change (the section with the lyrics and words). It's this launching point that frames the canvas with Disco Doom's dependably delicate chord structures, a subtlety often masked by meticulous selection of effects pedals, not unlike similar heroes of '80s underground rock - Dinosaur Jr and Sonic Youth. It gets trippy and trancey, but it's also a 4-minute song that easily could have expanded to 15-minutes in the hands of some self-indulgent art-rock bros. Sorry Boomers. The '60s sucked. Get to the money shot, and move on.
38. Jute Gyte "Semen Dried into the Silence of Rock and Mineral"
There's not much more we can say about this song that we didn't already say about "Mansions of Fear," even though we were determined to fit two Jute Gyte songs into this list so we have no one else to blame but ourselves. There's only so far you can go when describing microtonal math-rock influenced blackmetal. But that's okay because instead we'll use this as an opportunity post the "Ants In My Eyes" Johnson commercial.
37. Mac Demarco "Passing Out Pieces"
What's the name of that sci-fi movie from the late-'60s or early-'70s where they're like "in the year 2014" and everyone's wearing aluminum foil suits and a song not too unsimilar from "Passing Out Pieces" is playing on the radio in the opening scene? It's not
A Clockwork Orange
, although the Moog synths easily project the same warmth as Wendy Carlos' soundtrack (or any of the keyboard solos on
Abbey Road
). And also what's that goofy, quirky indie film from the late-80's or early-'90s about apathetic slackers where something that kinda sounds like the more experimental half of
Salad Days
plays during the panning of the landscapes? Maybe it was all a dream. The more unconventional half of
Salad Days
serves a necessary layer of wholeness and completion, with the lo-fi warmth sent from the same universe as
2
and
Rock & Roll Night Club
. AM sunshine. AM radio. Where's that limited edition 8-track re-release? Our $34 is ready.
https://www.youtube.com/watch?v=vF7P3oq8Enc
36. Schoolboy Q featuring Kendrick Lamar "Collard Greens"
Increased pulse. Breathe in, breathe out. A more fantastical person might associate this with Jack Bauer - always on the move - or possibly paranoia if they're the one being sought. For those who enjoy fitness, a good run in the park or a weight training never hurt. But our guess is that the manic urgency of "Collard Greens" refers to something a little raunchier than this. We had to Google it, and our suspicions were close: "Curly greens" is in fact a euphemism for a little of the ol' in-out-in-out. A quick one before the elevator reaches the top floor. We also hear buried references to about 9 other hiphop songs, including Kanye's "The New Workout Plan" (duh), but also "Get some dick tonight" from "Ass (Dance)" and "Freak the freckles off your face" from "Molasses." Mysterious skin.
https://www.youtube.com/watch?v=_L2vJEb6lVE
35. Ariana Grande featuring Zedd "Break Free"
"Problem" isn't bad, but it always sounded to us like a puzzle that was pieced back together incorrectly, whereas "Break Free" sounds a little more complete and satisfying as a whole. Max Martin's touch is obvious in the layers of vocals that get added as the song unfolds, leading up to the EDM-coda - the literal moment of breaking free from its previous structural elements, basically presenting the key to the whole song. A declaration of freedom. "Fuck everyone, I just wanna eat molly and dance forever." Oh yeah, also this was the one where
she got pissed about the lyrics
because homeschooling never taught her about poetic license.
"Now that I've become who I really are." "I only wanna die alive."
It's not like they were titling the song something egregious like "I Gotta Feeling." She wasn't into it though, busting into the studio and giving everyone a mouthful. "Yo, I don't think so. You can't make me. I'm cute Ariana, ya heard?. Homie don't play that." And she was all cute-pissed with her head moving back and forth. Max Martin just smiled and shook us head and made a "talk to the hand" motion and was all like "pppppsssshh bish pleese."
https://www.youtube.com/watch?v=L8eRzOYhLuw
34. Ava Luna "Daydream" / Ava Luna "Sears Roebuck M&Ms"
We had to tie tracks 1 & 2 for this entry because how could we separate those guys? They just seem to like each other so much. Acid-rock filtered through funk-punk steeped in
No New York
with a twist of
Remain In Light
. That's some mmm tasty shit. Where's Julian Fader? We haven't heard from him in a minute:
"We recorded those update on our friends' farm. We just went and lived up there for a while and recorded. I remember when we recorded 'Daydream' everyone was dancing, like everyone who wasn't playing on the rhythm tracks. They were just like leaping up and down."
33. YG featuring Drake "Who Do You Love"
Shimmering grit. Grit that shimmers. A little too much shimmer on that 5-note e-piano loop. Imagine the dopeness if it were instead sampled RZA-style, lofi from an acoustic piano. Close enough though. DJ Mustard reinforces the darkness and minimalism, joining
Gravediggaz' 6 Feet Deep
with
"New Slaves"
from
Yeezus
. That creepy slowed-down voice from the outro of Warren G's
"This DJ"
makes a quick cameo after two decades of silence. (This is actually our favorite part.) Halloween jam. Also, sorry about before when we mistakenly thought we had a Drake-less Hot Mix. We forgot he was on this because his verse is kinda not memorable at all, but at least it isn't distracting in any sense.
https://www.youtube.com/watch?v=VN4upVaDFFs
32. Alex G "Serpent Is Lord"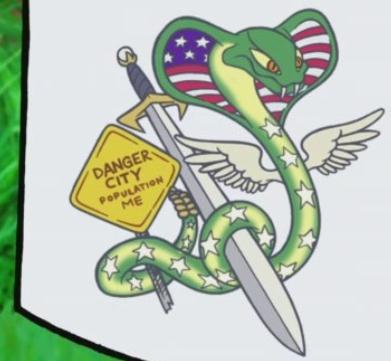 Yes, we know that's a cobra and not a serpent, but it's Master Shake's tattoo, so just leave it already. There's a couple Alex G songs where the first 20-30 seconds (before the vocals enter) kinda sounds like the intro of
"Mmm Mmm Mmm Mmm" by Crash Test Dummies
, a frequent MTV hit from the winter of 1994 that nobody really talks about anymore (and
one of the least-remembered of Weird Al's parody videos
). With or without that context, "Serpent Is Lord" still projects adolescent, contemplative introspection, alone in the bedroom with the door locked, headphones on, with a sign on the door telling your parents to stay the fuck out. Or like that movie
Son of Ranbow
where those kids in the '80s make their own version of
Rambo
using shitty Super 8 cameras.
DSU
is an album full of gentle ballads like these, intimately nearby the trudges through childhood's trials.
31. Hospitality "It's Not Serious"
NBD. No gimmicks here. Just flawlessly structured songwriting and musicianship, warm and understated - the type that we wish would come around more often these days. Seriously, this could have been on
Dusty In Memphis
. It even has a bass solo! Plus, a clever little coda section. Slap a Burt Bacharach or Jimmy Webb jam on the b-side and we got ourselves a winner here.
https://www.youtube.com/watch?v=URlVGmDhl6Q
|
Hot Mix 2014 on Spotify
|
|
#100 - 91
|
#90 - 81
|
#80 - 71
|
#70 - 61
|
#60 - 51
|
|
#50 - 41
|
#40 - 31
|
#30 - 21
|
#20 - 11
|
#10 - 1
|