Das cold, yo.
|
Hot Mix 2014 on Spotify
|
|
#100 - 91
|
#90 - 81
|
#80 - 71
|
#70 - 61
|
#60 - 51
|
|
#50 - 41
|
#40 - 31
|
#30 - 21
|
#20 - 11
|
#10 - 1
|
70. Alex G "Black Hair"
At first we were thinking "black hair" might imply youth, but then it occurred to us that black hair on humans is kind of unnatural until it's dyed that way. Cats and dogs and bears might have black hair. In fact, the phrase recurs in the song
"Harvey"
- the one that is possibly about a vampire puppy (although forgive us because we're probably way off base with that one). So it might be Alex G's tribute to gothic culture. In either case, "Black Hair" is notable for showcasing a few courageously and inventively lengthy chord progressions atypical of most modern songwriters - one of many impressive highlights on
DSU
. We're psyched as fuck to hear what's next.
69. Uncle Acid "Runaway Girls"
We could go into further detail about the imaginary
Abbey Road
/Black Sabbath hybrid like we've already done on this website 6 other times, but we'd rather just look at these things:
https://www.youtube.com/watch?v=XgUU1K7lbxg
68. Ava Luna "PRPL"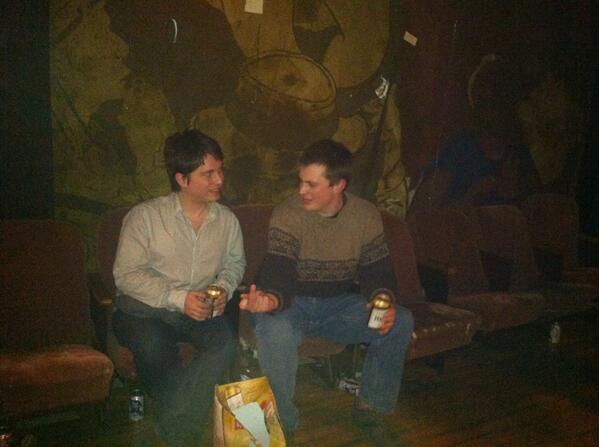 "We're gonna slow it down a little bit right now."
(How come no one throws that into stage banter anymore? Let's work on this.) As a standalone slow jam, "PRPL" generates a calming atmosphere, both intimate and familiar in a
late-night WBLS
kinda way. But within the context of Ava Luna's compellingly bizarre
Electric Ballroom
LP, what may have been intended as a mid-album palate-cleanser (and arguably the record's centerpiece) mutates into the weirdest moment on a very weird record. We tracked down drummer Julian Fader for some insight:
TMK: I like that one in the middle. The slow one.
Julian: "Oh, PRPL."
TMK: Yeah, PRPL. Didn't someone who worked with Aaliyah mix the album or something?
Julian: "Haha, Felicia's* dad, Jimmy Douglass. We drove to Miami to mix with him. He mixes all the Timbaland stuff and did all this shit in the '70s for Atlantic Records. He has a mix credit on
Marquee Moon
, and he was telling us about editing the guitar solo on
'Heartbreaker'
by Zeppelin. Pretty funny."
TMK: Whoa. That's rules.
Julian: "I think 6 or 7 of the mixes on the album are his [including 'PRPL.']"
(*Note: Refers to Ava Luna vocalist & keyboardist Felicia Douglass - lead vocalist on "PRPL.")
67. Kero Kero Bonito "Intro Bonito"
KKB in the hiz-ouse. Why isn't this band fucking huge yet? Everything here seems pretty nicely aligned for large-scale domination: They're tapping into a European-ized version of J-Pop that seems hugely accessible for U.S. consumption. Their songs are full of subtle and tasteful retro-videogame references, but not in a way that appeals to a boxed-in niche like Anamanaguchi or The Minibosses. And plus, the songs are really fun, way catchy and sung by an energetic mega-babe hottie. They also have really weird and awesome song titles. In addition to an eponymous jam, there's "Bonito Intro," "Intro Bonito," and two songs called "Cat Vs. Dog." These guys should open for Andrew WK. No, seriously. Let's give it some time. 2015 = the year of Kero? We'll find out soon.
https://www.youtube.com/watch?v=B42S91e2U-4
66. Jute Gyte "Mansions of Fear, Mansions of Pain"
Anyone who's friends with Satan on Last.fm might have noticed a recent new entry very close to the top of his "most played" artists. Something about that microtonal dissonance gives Missouri's Jute Gyte an edge to charm The Dark Lord, conveying that special combination of negativity, evil, hopelessness and eternal pain that we all need in our lives. Chainsaw noises fill the descending intro section of "Mansions of Fear" while tumbling with scabs and scars into an unmolested area of hell. After landing, it might resemble the lair that exists deep within Mr. Pickles' dog house. Or maybe it looks like one of those alternate dimensions like on
Rick & Morty
with colossal, grotesque monsters who are occasionally nice and friendly but usually pretty mean and have no regard for anyone. A few monsters get into a brawl and start slapping each other and screaming.
65. Big Sean featuring E-40 "I Don't Fuck With You"
We love this shit, probably for all the same reasons why hiphop writers hate it. Yes, "IDFWU" appeals to 6th graders, and yes, it has a goofy chorus (probably ghostwritten by Kanye), and yes, it's sung by the honeybunch of a former TeenNick cast member. If this were a song from 1989 instead of 2014, we guaranteed those same critics would feel differently about it. Context is everything.
https://www.youtube.com/watch?v=cZaJYDPY-YQ
64. Death From Above 1979 "Virgins"
Kinda unsure how all the kids* who lost their shit over the past few years of Fall Out Boy and Paramore albums were unable to get that same sense of asskicking guitar-pop dopeness from the stronger half of DFA79's
The Physical World
- by no means a solid release, but just as consistent as any of the strongest (or least-obnoxious) Fueled By Ramen LP's between 2010-2014. While "Government Trash" and "Right On, Frankenstein" stand tall as highlights, an uncredited cameo from Patrick Stump himself could easily have snuck into "Virgins," and we'd be none the wiser. And what's more, it's the one moment throughout their newer reunion jams that's equally as dope as the wild and dirty sex rides on
You're a Woman, I'm a Machine
.
(*By "kids," we mean "music writers" and "anyone who was in high school during 2006" whereas IRL whippersnappers in 2015 seem to be filling the shitty Fueled By Ramen void with Breathe Carolina and the like. Forgive us if we're far from actual IRL, but we're mostly guessing based on what we observe on Twitch.tv. We're old, but we're not THAT old.)
https://www.youtube.com/watch?v=NuG9D9VntOo
63. Migos "Fight Night"
We might be running out of steam already. We would lose a round of
Fight Night
right now. As for the song, it's just one of those that you wanna scream along to whenever the chorus happens. We actually don't really know what they're saying but the phonetics are good enough for now. Also, congratulations to Migos on receiving a condemning subtweet from an actual U.S. Senator. Damn yo. There's bands out there that would kill for publicity like this:
Also a quick "my bad." We'll admit that fucked up a few pages ago (in the "About The Money" review) when claiming that Migos stopped doing the triplet-rap thing, since it's kinda all over
their most recent mixtape
which we only heard for the first time today.
We feel like Whoopsie Goldberg right now.
https://www.youtube.com/watch?v=HsVnUpl2IKQ
62. Cloud Nothings "Now Hear In"

Things we know about Cloud Nothings, and what those things might infer: #1 They listen to lots of free jazz in the tour van, which possibly influences their penchant for 7- or 8-minute noise jams that usually happen about once per live set. #2 They recorded their last couple albums very soon after learning the songs, which possibly contributes to their urgency, equally frantic and spontaneous in nature. #3 They fuck shit up, which possibly contributes to how they fuck shit up. "Now Hear In" is our album highlight for combining all of these points with Hüsker Dü and The Replacements, like if Gin Blossoms decided to re-record "Hey Jealousy" about 50 times faster with screamed vocals, bigger amps and more intense distortion pedals.
https://www.youtube.com/watch?v=QgFvNKwxYQo
61. Good Throb "Acid House"
The party responsible for
our favorite punk release of 2013
had to go and do it again in 2014. Excitement was huge enough for the Bandcamp release of
Fuck Off
that their allotment of free downloads remained consistently maxed out until just recently. (They're so cool and intimidating that we got too shy to directly contact them for the Dropbox link
as they suggested
. But the good news is we finally got our copy today. Woo!) As for the jams, Gang Of Four and The Fall seem like the most frequent references. And while the production and guitar-tone match those bands almost identically, the songwriting deserves far more credit for "league of their own" inventiveness. There's really not much else quite like it.
|
Hot Mix 2014 on Spotify
|
|
#100 - 91
|
#90 - 81
|
#80 - 71
|
#70 - 61
|
#60 - 51
|
|
#50 - 41
|
#40 - 31
|
#30 - 21
|
#20 - 11
|
#10 - 1
|