|
#100 - 91
|
#90 - 81
|
#80 - 71
|
#70 - 61
|
#60 - 51
|
|
#50 - 41
|
#40 - 31
|
#30 - 21
|
#20 - 11
|
#10 - 1
|
This is really starting to get annoying and time consuming. Why is it so difficult to finish these things?
30. Ringo Deathstarr "Imagine Hearts"
This is some of the best MBV/JAMC spirit channeling we've heard in years. Very excited for the full length coming in February. Austin-bound? Hmmm...
29 The Morning Benders "All Day Day Light"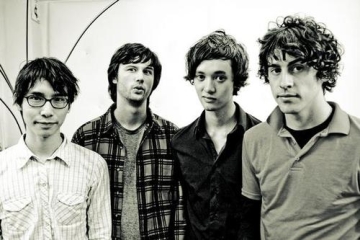 Brian Wilson + Grizzly Bear + big pop choruses + radio-friendly hooks = Not commercial friendly enough. But we love them anyway. By the way,
Futurama
is not funny at all.
28 Big KRIT "Somedayz"
Seeing as how "93 Til Infinity" is such an alltime classic, wouldn't anyone else sound just as good spitting some verses over it? It's possible, but in this case, KRIT nails it, creating something of his own while paying due tribute. Best mixtape track of the year. Swag that shit out.
27 Wolf Parade "Ghost Pressure"
Krug's keyboard attacks and Boeckner's wail shall go down as one of the great musical combinations of the past half-decade, and were never more prominent than in "Ghost Pressure." Leave it to a bunch of Canadians to form possibly the least egomaniacal supergroup of alltime. We're gonna miss these guys.
26 No Age "Valley Hump Crash"
Traditional bland intro. Then comes the drums and the drone. Bury those vocals. Deep. So deep. And finally, get ready for it, here it comes.. the BANGER outro coda! "Catalina!" This has way more structure than anything on
Nouns
, and yet still punk as fuck, in that Sonic Youth kinda way. Still completely No Age. Always evolving; never changing.
25 Big Boi "General Patton"
"Massively fucking huge" might be a slight understatement.
24 The Arcade Fire "Ready To Start"
With a title like
The Suburbs
, it didn't seem as likely for The Arcade Fire to return to their more rocked out Echo & The Bunnymen roots as opposed to the working man's uber-melodramatic Bruce Springsteen impression from Neon Bible. They made the right choice.
23 Wiz Khalifa "Black And Yellow"
As DJ's become more adept at pop structure, "musical hiphop" is quickly becoming a thing, increasingly the likelihood for Top 40 dominance. Wiz Khalifa fittingly banged out the catchiest hiphop chorus since "What You Know About That."
22 Earl Sweatshirt "Stapleton"
Has there been a sloppier loop in the history of the genre? With keyboard drums barely hitting their mark underneath an amazingly off-time organ fill, dripping with rawness unheard since probably the 90's. What's even weirder is that it's a fucking earworm. (For me, it was in-and-out stuck in my head for weeks, and I loved every minute of it.) And then there's that chorus... I start to truly feel like I haven't even started maturing past high school when I can relate to lyrics by 16-year-old rappers about trying to pick up girls with boyfriends and having them run away after seeing the white stains on my jeans. Odd Future Wolf Gang are mostly still in high school, growing up in the city, hating sports and loving horror movies. Not exactly the homophobic hazing types, despite gratuitous usage of "f*gg*t." "Rapist in training" comes from a naive place. They're very young and don't yet know the true horror of such a phrase, mostly included here to project their Eminem worship if nothing else. How extreme can they be? They already "get" the storytelling aspects of hiphop. Just dope swag.
21 Ariel Pink's Haunted Graffiti "Can't Hear My Eyes"
Grocery store jams are back. |
Continue to Page 9
| |
#100 - 91
|
#90 - 81
|
#80 - 71
|
#70 - 61
|
#60 - 51
| |
#50 - 41
|
#40 - 31
|
#30 - 21
|
#20 - 11
|
#10 - 1
|