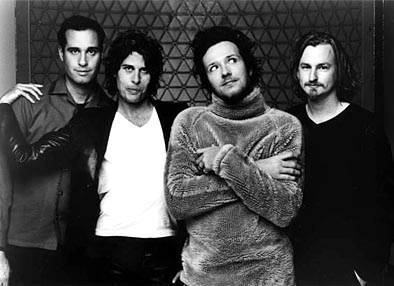 Sad news late last night. We're honestly bummed about Weiland's passing and have noticed a few friends posting their memories and favorite tracks on social media. We'd like to do the same here.
Through the 2015 lens, '90s modern rock presents an eclectic and varied spectrum, including a large fraction resting in an area similar to Stone Temple Pilots - the ones that were not easily categorized. Superficial claims like "they sounded like Pearl Jam" or "they sounded like Nirvana" never made much sense to us.
Alice In Chains' video for "Man In A Box" may have been the first "grunge" video to debut on
Headbangers Ball
early in 1991, before "Smells Like Teen Spirit" or "Alive." They didn't look like Megadeth or Metallica. But its groove was undeniable, and the images were different from anything aired prior. Contrary to popular belief, their presentation was calculated by managers and publicity agents to help them ride the crest set in motion by Nirvana and Pearl Jam. So by the time
Dirt
was released on September 29, 1992, they were prepped to enter the world of super stardom without really having to try.
Core
and
Dirt
were released on the same day, but
Core
was not promoted by MTV for its first 6 months of existence while singles from
Dirt
like "Would?" and "Rooster" quickly became hits. It wasn't until early 1993 that "Plush" - STP's breakthrough - was able to earn the title of "Buzz Clip" with a presentation that seemed suspiciously familiar by then. To many, it seemed as if they never paid their dues. By late Spring, "Plush" was unavoidable, and Weiland's face found itself on countless magazine covers as the band received constant coverage on MTV.
If
Core
were their first and only album, Alice In Chains would have remained their closest sonic companion. But from 1994 onward, they wisely chose to distance themselves from the bands they were accused of emulating. John Lennon, David Bowie, Led Zeppelin and mid-'70s glam became their most frequently cited references as they sunk into their new niche: the bizarre uncategorizable mid-'90s pocket that continued to be branded as "alternative."
[The opposite of alt-rock - mainstream bands who did not present any form of alternative - have never been difficult to locate throughout the past 40 years. And we strongly prefer to distance STP from this grunge-lite lineage: Counting Crows, Soul Asylum, Collective Soul, Seven Mary Three, Goo Goo Dolls and Dishwalla. They begat the post-grunge megasellers of the TRL era and beyond: Days of the New, Creed, Staind, Godsmack, Puddle of Mudd, Nickleback, Hinder and Daughtry. Most who choose to insert STP into this atrocious lineage might just as easily blame the band who wrote "Territorial Pissings."]
In retrospect, "alternative" was a very accurate tag, since a lot of these bands seemed very left-field and strange, although frequently melodic and with plentiful distorted guitars. But most importantly, they were always adventurous. STP doesn't get enough credit for that aspect of their music. Thanks to the popularity of
Core
, they remained the biggest rock band of this era alongside names like The Toadies, Spacehog, Garbage, Veruca Salt, Superdrag, Sponge, Local H, Fountains of Wayne, The Cardigans, The Flys, Tripping Daisy, White Town and Primitive Radio Gods among countless others.
They were the square pegs that were too glossy for college airplay, and except for STP, they were all too strange for mainstream rock longevity or their own headlining arena tours. In one MTV interview, Billie Joe Armstrong asked, "Everyone keeps calling it 'alternative,' but it's an alternative to WHAT?" In retrospect, the answer seems a lot more obvious.
With this said, we're pretty much now ready to present our 10 Scott Weiland picks. Our chronology begins just as the promotion cycle of
Core
almost too perfectly segued into
Purple
via "Creep" and their episode of
MTV Unplugged
, first broadcast in January 1994. The chronology ends 12 years later as Velvet Revolver was winding down the promotion for their debut album.
#1 Stone Temple Pilots "Andy Warhol" (David Bowie cover, 1993)
For their
Unplugged
episode taped late in 1993, MTV chose to cram "Crackerman" and the four singles from
Core
into a tight 30-minute episode. In the unaired hour-long version, fans would have been treated to the live debut of "Big Empty." This performance was used as the song's only promo video a few months later when it was chosen as the lead single for
The Crow
soundtrack. Two other notable
Unplugged
exclusions: A version of Vince Guaraldi's "Christmastime Is Here Again," and their cover of David Bowie's "Andy Warhol," which later appeared as a b-side on the CD maxi-single for "Vasoline."
#2 Stone Temple Pilots "Sex Type Thing (Swing version)" (1993)
In the original closer to STP's
Unplugged
episode, Weiland asks "Hey there, how's your steak?" for no apparent reason, and the audience cheers.
#3 Stone Temple Pilots "Pretty Penny" (VMAs, 1994)
The arrangements from the
Unplugged
episode must have struck the band with a freshly uncovered sense of cohesion since they used it many more times throughout the next few years, including a 25-minute all acoustic mini-set that was placed in the center of their live shows throughout the
Tiny Music
tour, not to mention their unfortunately overplayed cover of Led Zeppelin's "Dancing Days." It also found its way onto
Purple
in the form of "Pretty Penny." This vid also might jog memories of the odd post-"Lithium" era when rock bands were encouraged to choose non-singles for their VMAs performances.
#4 The Magnificent Bastards "Mockingbird Girl" (1995)
Later re-recorded with electronic drums for Weiland's
12 Bar Blues
LP in 1998. We prefer the guitar rock version with real drums. (Also, kinda unrelated, but check out the intro: Better Than Ezra playing deadpan basketball with a bear. No does deadpan anymore. "Weird for the sake of weird." We need more of this.)
We might as well also include "How Do You Sleep" for the sake of completing their 2-song discography. We're not sure if The Magnificent Bastards were intended as anything beyond a project for one-offs and comp submissions that seemed uninteresting to the other members of STP. In either case, both "Mockingbird Girl" and the John Lennon tribute turned out surprisingly decent. Failure (as The Replicants) released an equally explosive arrangement of the same song a year later.
#5 Stone Temple Pilots "Adhesive" (1996)
They get frequently labelled as a "singles band," although an imaginary 7-song EP pulling only from
Purple
and
Tiny Music
's non-singles would have been among the very best releases from any mainstream '90s rock band. Our dream track-listing would keep the middle section of
Purple
as Side A - "Still Remains," "Pretty Penny" and "Silvergun Superman" - and then flip over the tape for
Tiny Music
's Side B - "Art School Girlfriend," "Adhesive," "Ride the Cliche" and "Seven Caged Tigers," with "Adhesive" as our personal highlight.
#6 Scott Weiland "Lady, Your Roof Brings Me Down" (1998)
Released during the first week of 1998 on the
Great Expectations
soundtrack with Sheryl Crow playing accordion. (Proud to say we got to see one of the sets from the
12 Bar Blues
tour in May 1998. Pretty sure they did "Tumble In The Rough," "Vasoline," and either "Piece of Pie" or "Sin" - plus a handful of his solo songs, including a loud-guitar version of "Lady Your Roof...")
#7 Stone Temple Pilots "Glide" (1999)
We never hear anyone talk about their 1999-2003 era beyond "Sour Girl," so we were hoping to highlight this section of their output. It was a tough call between this one and "Church on Tuesday."
#8 Stone Temple Pilots "Days of the Week" (2001)
Talk about remembering where you were... I recall this album being a topic of discussion on the night of September 10, 2001. Yeah anyway, "Days of the Week" is their most underrated lead single. Pretty sure it was the only song from their 5th album performed during their headlining hour-long set on the 2001 Family Values Tour (with Linkin Park and Staind). If memory serves correctly, they closed the show with The Beatles' "Revolution" as Weiland emerged wearing only an American flag. As the crowd cheered, he tripped out of the flag and ran off stage naked.
#9 Stone Temple Pilots "Hello It's Late" Video (2002)
In November 2003, they released
Thank You
, a retrospective that included a bonus DVD with all of their videos presented chronologically and concluding with "Hello It's Late," the final video prior to their first break-up and hiatus in November 2003. It might have something to do with Weiland's beard and clothing, but something about this has a very distinct
Abbey Road
feel to it, as if they secretly knew it was their final moment.
#10 Velvet Revolver "Fall to Pieces" Video (2004)
Kinda chilling to watch this now in light of the recent news. Weiland chose to participate in a decently brave and ballsy video performance, literally lying on the floor of a backstage area and revived from a heroin overdose by Duff McKagen - one of the last musicians to speak with Kurt Cobain while he was alive and probably GNR's 2nd most notorious victim of intense drug addiction (after Steven Adler). And plus, this was definitely Scott Weiland's last great song.