Edit 1/2/10: Some pics were added cos I liked how they looked with #1 through #20. - MFALC
View the entire list (so far)
at "the spot"
.
I seem to have dug myself into a hole.. Since commentary was added for each song of the previous entry, we have no choice but to continue this path, and to have it done sometime before Thursday. Let's do this..........
21 DJ Quik & Kurupt "9x Outta 10"
Something tells me the brilliantly simple production in this was not an accident. DJ Quik's 2009 future-classic will fit in perfectly alongside such ass-kicking in-your-face 00's minimalism heard previously in "Grindin'," "Drop It Like It's Hot" and "Wait (The Whisper Song)."
22 Pill "Trap Goin' Ham"
I'd love to describe Pill's emergence onto the Atlanta hiphop scene as more of an "event," except no one in my circle of friends has any idea who this guy is. Hopefully, that will change in 2010 and beyond. Pill's 2 (brilliant) mixtapes from 2009 sound like the best elements of Ludacris, Lil Wayne and both dudes from Outkast all rolled up into one entity, except with far more urgency and freshness.
23 Tinted Windows "Kind Of A Girl"
Tinted Windows seemed like an odd grouping initially. However, looking further into the matter, Fountains Of Wayne and Cheap Trick used to often play shows with Smashing Pumpkins back in the
Mellon Collie
days, and the Hanson dudes seem willing to collaborate with pretty much anyone who has basic rock-cred. Buzz was unavoidable simply based on their "supergroup" status, and so their success entirely rested on whether Adam Schlesinger could create another one of his huge-sounding catchy-as-all-fuck brain-penetration-machines like "Stacy's Mom" or The Click Five's "Just A Girl," which unfortunately did not happen. But although it wasn't as huge and accessible, "Kind Of A Girl" was the best single from any supergroup in 2009, far surpassing the attempts from Them Crooked Vultures and The Dead Weather (and of course who could forget the abysmal Chickenfoot).
24 Phoenix "Lisztomania"
This year's 2 big singles from Phoenix finally earned these guys some long overdue popularity in the United States, along with earning them a boatload in commercial licensing. The only slight bummer is that 2006's
It's Never Been Like That
was one of those rare albums from the past few years where all 10 songs were kinda outstanding, while this year's flawed
Wolfgang Amadeus Phoenix
ended up getting all the credit.
25 Neon Indian "Should've Taken Acid With You"
The most prevalent memory I personally kept from Summer 2009 is that it rained about 75% of the time, so weather-wise, we barely received a summer. But music-wise, there seemed to be more summery sounding pop songs than any of the past few years. And it didn't seem uncommonly bizarre for them to continue getting released into late-August and September of this year.
Pitchfork said:
The side effects [are] so literal and innocent-- going swimming, ditching your parents, watching the cosmos, making out-- that it could just as easily have been called "Should've Tried to Hold Your Hand."
26 Clipse featuring Kanye West "Kinda Like A Big Deal"
Possibly Kanye's best guest-spot of the year. The beat is so groove-a-tron that baffling lyrics such as "plus she got that dumb ass" or the (possibly Snorg Tees quoting) title lyric become instantly forgivable.
27 Raekwon featuring Ghostface Killah "Penitentiary"
Thanks to tracks like this one, it became clear that the hype surrounding
Only Built 4 Cuban Linx Part 2
wasn't simply built around nostalgia. This album along with
Fishscale
shows The Wu finally soaring past the bumpy turbulence in the aftermath of Ol' Dirty Bastard.
28 Drake "Best I Ever Had"
I refuse to watch Drake's videos as I fear the suave charm in his music will be drastically undermined by recognizing him as the same guy who played a paraplegic basketball player on
Degrassi: The Next Generation
, the most horrifically compelling TV show intended for pre-teens since 1990 gave us the 1-2 punch of
Saved By The Bell
and Nickelodeon's
Fifteen
. And don't let the "rapping" fool any listeners... This shit was made for American Top 40 with just as much pop craftsmanship as Lady GaGa.
29 Dinosaur Jr "Whenever You're Ready"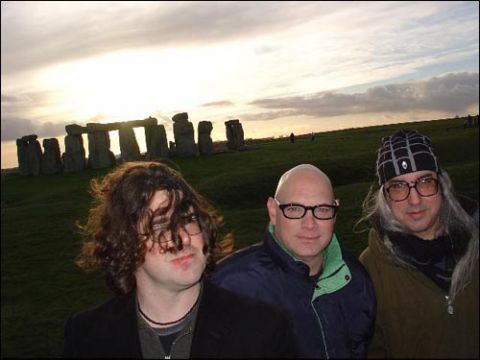 Dude... It's Dinosaur Jr covering The Zombies. And not only that, but they killed it, and the song was awesome to begin with. There was no way in hell this wasn't going to make the top 30 of this list, almost entirely based upon principle.
30 The Hood Internet "Comfortable Up Here" (Lil Wayne vs Royksopp)
I have to admit I don't know very much about this one... I hadn't heard either of the original songs before hearing this mash-up. But whatever works...
31 Superdrag "Everything'll Be Made Right"
Although they have yet to surpass "Sucked Out," Superdrag consistently pump out a few killer tracks on every album they've released since, this one being their 2009 highlight.
32 Silversun Pickups "The Royal We"
There is hope for straight-up rock in 2010 and beyond. Silversun was recently nominated for a well-deserved "Best New Artist" Grammy. It's unfortunate that Muse blew up the instant they decided to release their worst album ever. If Silversun didn't seem like such nice guys (and girl), I'd encourage them to push Muse off the stage during their next high-profile TV appearance and break into either this song or "Panic Switch."
33 Kid CuDi featuring Kanye West & Common "Make Her Say"
Common's buzzkill verse at the end prevented "Make Her Say" from placing a lot higher, but the drums are too good to keep it from falling too low. Without the drums, this would've been "that weird song where they sampled Lady GaGa to make some quick cash."
34 Kid CuDi "Sky Might Fall"
If he knows what's good for him, Kid CuDi should prolly have sent a Christmas card out to Kanye this year.
35 Dinosaur Jr "Your Weather"
Lou Barlow also released a solo album this year with some classic melancholy Sebadoh-sounding stuff. But nothing beats hearing one of Lou's best recent songs performed with the full force of The Dinosaur.
36 Ryan Leslie "Diamond Girl"
The world needs more post-Neptunes R&B. I had no idea that this single was actually released late 2007, but it's the lead track off his self-titled full-length which was released in February of this year.
37 Doves "Compulsion"
Apparently, Doves are still around. This track was floating around Sirius 26's playlist over the summer, from what's probably their best album since
Lost Souls
in 2000.
38 A Place To Bury Strangers "In Your Heart"
It's not everyday a modern band figures out how to tweak their sound to authentically channel a specific era of music. Either that, or they stumbled upon some outtakes from a long-lost and awesomely loud UK shoegaze band circa 1990.
39 Blitzen Trapper "Preacher's Sister's Boy"
A B-side from the
Black River Killer
EP, I was unable to find it anywhere on Youtube or elsewhere online, and so instead the audio file below links to "God + Suicide," which is the sister-track to "Preacher's Sister's Boy," as they're very similar in style and both are under 2:20. I'm about 68% certain we'll hear a new Blitzen Trapper album in 2010.
40 New Boyz "You're A Jerk"
If one-hit-wonders existed anymore, this one would have fit in just fine. If you hate fun (a.k.a. if you're a jerk), don't bother to fuck with "You're A Jerk." If this becomes the template for a new genre called "skinny-jeans rap," I will have zero complaints.
Did you learn how to jerk yet?