| 2000 |
| 2001 |
| 2002 |
| 2003 |
| 2004 |
| 2005 |
| 2006 |
| 2007 |
| 2008 |
| 2009 |
Our story begins here...
We know everyone's been on the edge of their roof waiting for this, so now without further delay we proudly present:
THE 12 HOTTEST JAMS OF THE YEAR 2000.
#12: The mountain that looks like Phil Collins' head (April 12, 2000)
#11 Arnold Calls Gator Lodge
Audio only, not this fan video:
https://www.youtube.com/watch?v=muVRamIfSGE
#10 Jackass: The Hearse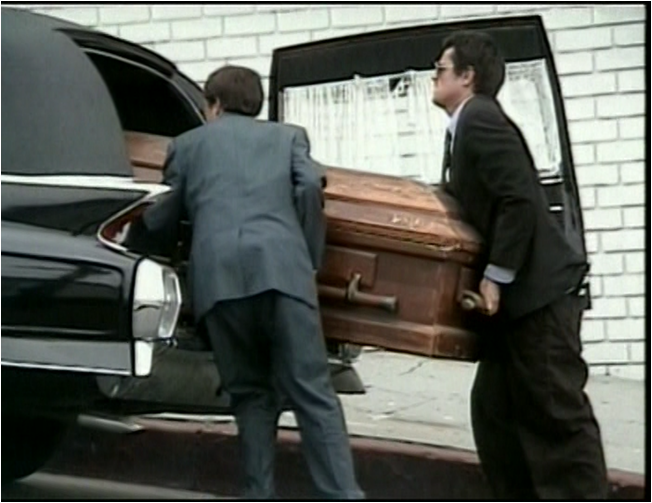 Handsome Jack is in the casket. Johnny Knoxville is the driver. Handsome Jack falls out of the car. Big yucks.
#9 Adam Green on Say What! Karaoke
Adam Green from The Moldy Peaches appeared on this show about a year prior to their first album release. No one's sure whether MTV chose the songs for the contestants or the other way around, but Adam got stuck with "Steal My Sunshine." Instead of singing the correct words, he opted for a call and response with the TV audience. "When I say 'These Burgers,' YOU SAY 'Are Crazy!. THESE BURRGERRRS!!" By the time 90 seconds had passed he was rolling around on the ground chanting "these burgers are crazy," and MTV somehow allowed this to air. And we're pretty sure he was wearing cool sunglasses.
#8 Clerks: "Big American Party" (May 31, 2000)
#7 Kenny singing opera (April 26, 2000)
#6 Stella: College Reunion (Fall 2000)
#5 Radiohead: "Flying Bears" Blip (Oct 2000)
#4 Crazy Doctor (January 14, 2000)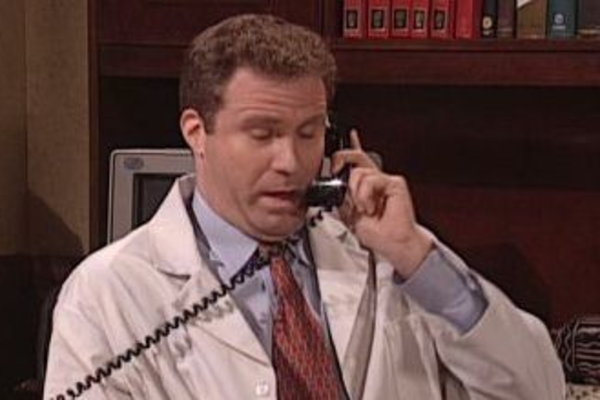 http://www.hulu.com/watch/282630
#3 "Chu Chu Rocket" Commercial (Feb 2000)
#2 John Mark Byers (from HBO's Paradise Lost 2, June 22, 2000)
#1 "I Love Christmas" featuring David Liebe Hart and Michael Boyd (December 2000)
Out of all 10 years of the 2000s decade, this one had the toughest moments to locate on video-streaming services. It was also the year where it was toughest to narrow down our favorites. Even after expanding this list to 12 (instead of 10), we still were stuck with many tasty leftovers:
-
The Last Temptation of Blank
: The final episode of
Strangers With Candy
guest starring Paul Rudd and Winona Rider. (October 20, 2000)
https://www.youtube.com/watch?v=WLOHsNl6yhQ
-
SNL
's legendary episode hosted by Tom Green (incorrectly listed by many sources as
SNL
's worst episode). (November 18, 2000)
http://www.nbc.com/saturday-night-live/video/eagles/2861373
- Any
Freaks and Geeks
episode with Harris.
https://www.youtube.com/watch?v=uLv-DQwPFuE
- The Levis commercials with Flat Eric
https://www.youtube.com/watch?v=hY6WTuvyF7Y
- That episode of
2Gether
where bad boy Mickey Parke goes soft and sings "I'm a Regular Guy (Just Like Dawson Creek)."
- Stella: Office Party
https://www.youtube.com/watch?v=RBoqxUOjF7o
Also we love
Rejected
; despite popular opinion, however, it's not our favorite Don Hertzfeld short and therefore narrowly missed out on the 12 hottest jams of 2000. But we'll post it here since we couldn't find the
Say What! Karaoke
clip.
Concert Of The Year: ODB's Final Appearance With Wu-Tang
NEW YORK — More than a month after fleeing a rehab center and becoming a fugitive from justice, rapper Ol' Dirty Bastard surfaced Tuesday night in a triumphant, if blatantly illegal, performance with the rest of the Wu-Tang Clan in front of hundreds of fans.

"I can't stay on the stage too long tonight – the cops is after me," O.D.B. told the stunned, gleeful crowd at the Hammerstein Ballroom after joining with the rest of the Clan to perform "Shame on a N—a."
http://www.mtv.com/news/1429366/performance-by-fugitive-odb-stuns-wu-tang-clan-crowd/
HOT MIX 2000
20. Nelly "Country Grammar (Hot Shit)"
19. DMX "Party Up"
18. PJ Harvey "This Mess We're In"
17. Elliott Smith "Son of Sam"
16. The Anniversary "All Things Ordinary"
15. The Lox "Ryde or Die Bitch"
14. D'Angelo "Send It On"
13. No Doubt "Simple Kind of Life"
12. Sigur Ros "Ágætis byrjun"
11. Three 6 Mafia "Sippin' On Some Syrup"
10. Modest Mouse "Tiny Cities Made of Ashes"
09. Mystikal "Shake Ya Ass"
08. Electric Wizard "Funeralopolis"
07. Deftones "Change (In The House of Flies)"
06. Aaliyah "Try Again"
05. Dead Prez "Hip Hop"
04. At.The.Drive.In "Pattern Against User"
03. And You Will Know Us By the Trail of Dead "Mistakes and Regrets"
02. Radiohead "Optimistic"
01. Outkast "B.O.B."
The official
Spotify playlist
of this page includes the 19 of the 20 songs listed here, plus hot bonus.
Aaliyah "Try Again" (not on Spotify):
| 2000 |
| 2001 |
| 2002 |
| 2003 |
| 2004 |
| 2005 |
| 2006 |
| 2007 |
| 2008 |
| 2009 |