| 2000 |
| 2001 |
| 2002 |
| 2003 |
| 2004 |
| 2005 |
| 2006 |
| 2007 |
| 2008 |
| 2009 |
Back again.
So here's this:
THE 12 HOTTEST BONER JAMS OF 2005.
#12 Kidz Bop "Float On" (February 22, 2005)
#11 Showdogs Moms and Dads: Crazy Vagina Lady (March 30, 2005)
#10 Ashlee Simpson at the Orange Bowl (January 4, 2005)
That dude who yells "you suck."
#9 South Park police sketches (November 30, 2005)
#8 "This Is Beetle" (January 2005)
Beetle is cute. But if you tell him that, he'll tell you to fuck off.
#7 Stella: Campaign (July 5, 2005)
Probably our favorite episode of Stella's TV series. We wish a better part of it were on Youtube, but the campaign ad isn't bad.
#6 Wonder Showzen: Patience (April 25, 2005)
https://youtu.be/NonOIsMYbLI?t=5m38s
#5 Lucy, the Daughter of the Devil pilot (October 30, 2005)
Originally intended as the follow-up to
Home Movies
. Probably the most promising pilot of the 2000s, but its lack of success eventually lead to the creation of
Bob's Burgers
.
http://www.adultswim.com/videos/lucy-the-daughter-of-the-devil/hes-not-the-messiah-hes-a-dj/
#4 Scott Stapp on Casino Cinema (December 6, 2005)
Shot the same night as when Stapp threatened 311 and told them, "311, I am ready to fight."
#3 House Of Cosbys (January 30, 2005)
#2 Steve-O on Too Late With Adam Carolla (September 26, 2005)
#1 Beat Kids (March 25, 2005 | April 22, 2005)
We couldn't decide between "Whose hat represents more oppression, yours or mine?" and "Here's my impression of you: Gamble, gamble, gamble diiiiiieeee...."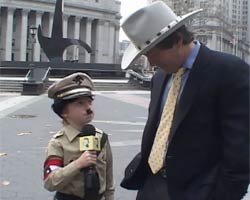 The 1st one:
https://youtu.be/QCohGwH2qek?t=3m21s
The 2nd one:
https://youtu.be/FkYNkUC_M50?t=10m45s
More fun stuff from 2005
-
Breaking Bonaduce
was also in 2005, but we couldn't find any Youtube clips, so we can't really remember what happened.
- Also the hot
Pat O'Brien voicemails
surfaced this year which we suppose is still kinda funny.
- Same deal with
Grapes Lady
.
- We don't care all that much for
American Idol
. Leroy Wells tho:
https://www.youtube.com/watch?v=VrpTF5-mFuw
.
"Sometimes Dead Is Better"
Marjorine
might be our favorite
South Park
ever. In the commentary, Trey and Matt admitted they were unhappy about fitting too much plot into one episode. But they're wrong. Dead wrong. It's a perfect episode. While tough to choose a best moment, the creepy
Pet Semetary
dude is definitely a highlight.
HOT MIX 2005
20. Rihanna "If It's Lovin' That You Want"
19. The Click Five "Just the Girl"
18. The Game f/ 50 Cent "Hate It Or Love It"
17. Missy Elliott f/ Ciara & Fatman Scoop "Lose Control"
16. The Darkness "Is It Just Me?"
15. Mike Jones f/ Slim Thug & Paul Wall "Still Tippin'"
14. Big Star "Lady Sweet"
13. Queens of the Stone Age "In My Head"
12. The Mars Volta "L'Via L'Viaquez"
11. Sufjan Stevens "John Wayne Gacy, Jr"
10. Fall Out Boy "Dance Dance"
09. Kanye West f/ Adam Levine "Heard Em Say"
08. MGMT "Kids"
07. Of Montreal "The Party's Crashing Us"
06. C.S.S. "Off The Hook"
05. Ciara f/ Missy Elliott "1, 2 Step"
04. Ying Yang Twins "Wait (The Whisper Song)"
03. Spoon "My Mathematical Mind"
02. Three 6 Mafia "Stay Fly"
01. Amerie "1 Thing"
NADA-fy jam:
"Lady Sweet"
| 2000 |
| 2001 |
| 2002 |
| 2003 |
| 2004 |
| 2005 |
| 2006 |
| 2007 |
| 2008 |
| 2009 |