"Hot Mix 2011" On Spotify
|
#100 - 91
|
#90 - 81
|
#80 - 71
|
#70 - 61
|
#60 - 51
|
|
#50 - 41
|
#40 - 31
|
#30 - 21
|
#20 - 11
|
#10 - 1
|
20 The Horrors "Still Life"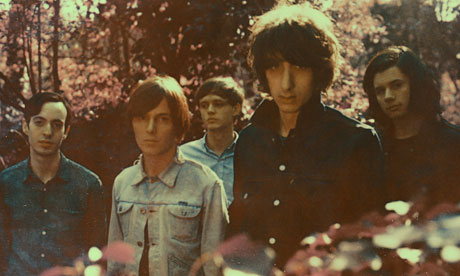 We previously brushed these guys aside as more of a novelty band. But their 2011 transformation from punk-goth to psychedelic-goth seems like one of those career-defining decisions, along the lines of "Radiohead gets more depressed." The backwards guitars and horn section in "Still Life" suggest nothing short of a perfect marriage between Joy Division and
Magical Mystery Tour
.
19 Broken Water "Heart Strings"
One of our brightest "bands to watch" suggestions for 2012... Half-Sonic Youth, half-MBV, with various injections of punk and 60's garage to match the band's personal specifications. It's not exactly "cheering up" music, but 2011 was just that kind of year...
18 Yuck "The Wall"
Once again, Yuck sounds like a non-90's band on "The Wall" - in this case, Clap Your Hands Say Yeah. The song presents a paradox, becoming increasingly complex in its simplicity, churning in the same 4 or 5 lines of lyric sung over and over... This all comes to a head within the last minute or so, with the vocal "screams" suggesting desperation that cuts even deeper, possibly the true "key" to this song.
17 Smith Westerns "Weekend"
Distorted guitars... And yet Smith Westerns don't receive a "90's-retro" tag. Tyler The Creator threw "Weekend" on a summer mixtape from last July, which was thoughtful of him. But from where we stand, "Weekend" sounds just as good at any time throughout the year. It sounds like the type of song that would show up at the conclusion of a "feel good" movie just as the narrator says "So everything worked out. Everything was gonna be a-ok." And then it fades to black, and this song continues playing over the credits.
16 Frank Ocean "Swim Good"
"I'm about to drive in the ocean / I'm about to swim from something bigger than me." It's hard to ignore the use of "Ocean..." Self-exploration? Escape from pain? We're thinking this might be another drug song like "Novacane," but if so, it's more ambiguous and shoots way deeper and darker...
15 Fucked Up "The Other Shoe"
"Dying on the inside / Dying on the inside / Dying on the inside / Dying on the inside / Dying on the inside / Dying on the inside" over a seemingly endless pummeling of (dare we say "epic") chord-changes. With a few years hindsight, the great sprawling double-LP's of this era - such as
The Suburbs
and
David Comes To Life
- will be embraced among rock historians just the same as
The River
and
London Calling
. In the meantime, songs like "The Other Shoe" are Fucked Up's answer to a pop single. 2012 totally needs more songs like this.
14 Azealia Banks "212" / "Liquorice"
Favorite song of 2011 with the c-word (12 times by our count). Crush of the year. All her strengths in under 3:30. With so many hugely memorable hooks, who needs a chorus? You couldn't ask for a better introductory single. Her new kickass jam "Liquorice" leaked 2 weeks ago, just before year's end. It's too good to not include it here, although 90% of this placement is all about our love of "212."
13 Uncle Acid & The Deadbeats "I'm Here To Kill You" / "13 Candles"
Side B of
Blood Lust
contains crazy-ass super powers. At the party, you don't play Side B of
Blood Lust
towards the end of the night after everyone's wasted as fuck. And it's not "let's get this party moving" music. Side B of
Blood Lust
is the secret weapon. You pull this shit out right in the fucking middle of the party, right when shit's about to get REAL AS FUCK. Tony Iommi? J Mascis? They would love this album just as much as every old dude who's stuck in 1985 or earlier, longing for the days when rock music kicked serious ass. Sadly, none of these people will ever hear the best psychedelic pop-metal album of the last 20 years, and we hope to be proven wrong on that prediction...
12 Tyler The Creator "Yonkers"
Dank, squirming, gruesome production... The music morphs over the stagnant drum beat like Gregor Samsa morphing into an insect. Tyler gets to yell about his obsession with Adventure Time and cinnamon, and he indulges more into his Eminem obsessions by going off about his deadbeat dad (no one cares... maybe he should rap about Earl instead), as well as the first of his many empty (yet poignant) threats to Bruno Mars. Anything but derivative.
11 Merchandise "Kill The Light"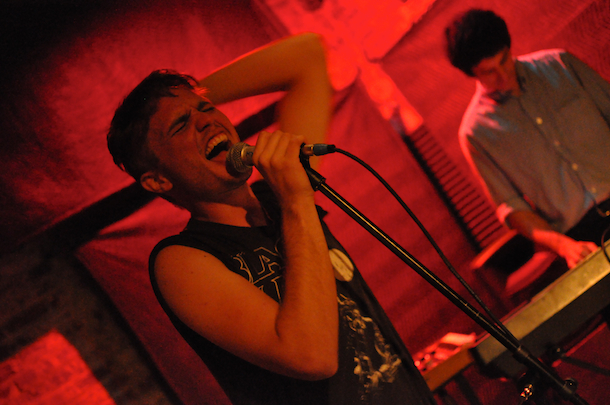 Our most anticipated LP of the moment is probably the next release from the dark, noisy and 80's-goth sounds of Merchandise. They posted an unheard 2008 demo on their blog a few weeks ago. With such a fat bassline, this is probably the most Cure-sounding thing they've done yet, which got our attention VERY quickly.
| Continue to Page 10 |
|
#100 - 91
|
#90 - 81
|
#80 - 71
|
#70 - 61
|
#60 - 51
|
|
#50 - 41
|
#40 - 31
|
#30 - 21
|
#20 - 11
|
#10 - 1
|