Something's starting to suggest that completing this will totally suck...
We'll be doing our best to post Soundcloud and Youtube links. And for the super-cool humans, we started a sick Spotify playlist in case anyone wants to listen along as we unveil the results:
"Hot Mix 2011" On Spotify
|
#100 - 91
|
#90 - 81
|
#80 - 71
|
#70 - 61
|
#60 - 51
|
|
#50 - 41
|
#40 - 31
|
#30 - 21
|
#20 - 11
|
#10 - 1
|
100 LMFAO "Sexy And I Know It"
Our favorite uncle-nephew team of 2011 somehow seem less awkward singing about their alleged "sexiness" than the two unforgivingly homosexual men in Right Said Fred did (exactly) 20 years ago, probably because LMFAO's message is far more inclusive, instead of specifically targeting "gay." Partying knows no sexuality. Fun doesn't know what gender it is. Fun just parties. Everybody party. NOW.
99 Crash of Rhinos "Closure"
We'll get more into this as the mix continues, but "Emo" (and emo-nostalgia) started making an unexpected comeback this year. From the more hardcore end, Crash of Rhinos (probably from Europe) got our attention with the brutal
Distal
LP...
98 Earl Sweatshirt "Dat Ass"
We know they have many releases planned for 2012, but we're still disappointed in Odd Future, mostly because of the rapid-fire series of (mostly amazing) mixtapes from 2010, followed by like TWO in 2011. (Re-releasing the MellowHype LP on Fat Possum sans the Earl Sweatshirt track doesn't count.) Hope: In two months Earl will be turning 18, so we're guessing the sudden slowness of their release schedule may be awaiting his return as part of their 2012 takeover.
97 Maroon 5 feat. Christina Aguilera "Moves Like Jagger" / Maroon 5 "Never Gonna Leave This Bed"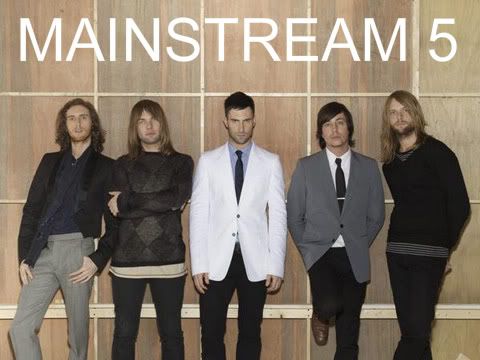 Yo, fuck whistling. No one likes whistling, unless you're an asshole. (This is probably not true.) Also, we're still not sure if Xtina Aguilera's sweet ass actually appeared in "Moves Like Jagger" but she's probably in there somewhere. Both songs feature sick hooks that hang low like yo momma's titties. Fun Fact about Maroon 5: Their drummer sucks, so when they were recording their first LP, the producer was forced to call in Matt Chamberlain, the same guy who completely owned on Fiona Apple's
When The Pawn
LP. More Fun Facts: Taste My Kids' special ops team has obtained solid confirmation regarding mass suicides directly linked to that fucking godawful Gym Class Heroes song featuring Adam Levine or whatever that asshole's name is, and we are demanding an immediate cease-and-desist for future radio airplay. Accordingly, several #OccupyWallStreet protesters have planned to raise awareness of this issue in future demonstrations.
96 Radiohead "Bloom"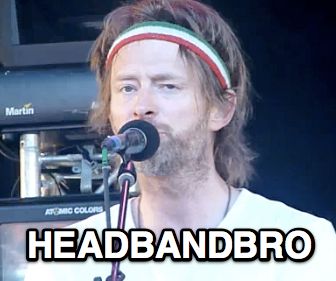 A long time ago, SPIN outrageously claimed that TLC was inspired to write "Creep" partially because of the Radiohead single of the same name. While this is more than likely untrue, the "Rappers sampling Radiohead" trend didn't truly sprout until 2007 when CRS's "Us Placers" sampled "The Eraser," and the trend expanded even farther in 2011. It's only a matter of time before one of these actually scores a huge hit for some new-school rap dude. The band seems to be encouraging this, especially after their IDM-leanings became more obvious than ever on
The King Of Limbs
, without question "The most underrated LP of 2011." Colin Greenwood's bass continues its "secret weapon" status, and we wish we could say the same for Thom Yorke's ever-increasingly obscured vocals. As much as we enjoyed
TKOL
(accurately rated by P4k as a 7.9), we long for the days when we could actually "sing along" to Radiohead and remember how the words go... Ironically, Thom was a far better vocalist when he was unsure of himself and lacking confidence.
95 Big Talk "Getaways"
The Killers' outstanding mid-decade run of singles appears to have subsided. For whatever reason, the drummer dude who looks like
In Utero
-era Krist Novoselic released a decent LP on his own, mostly comprised of songs that sound exactly like The Killers. The "Replica" video weirded us out, but "Getaways" is still the standout...
94 Pill "Ridin' On Dat Pole"
The mainstream rap game turned a new avenue late last year around the time of "Black and Yellow," "No Hands" and this new Maybach Music thing with Rick Ross behind the controls. We've been waiting on Pill's first official full-length for over two years now. "Still takin' my time," he says. We didn't realize this would turn into another
Chinese Democracy
."Ridin' On Dat Pole" seems directly influenced by MM's new direction, indicating what may be in store if Pill's takeover actually happens in 2012. Fingers crossed.
93 The Horrors "Endless Blue"
Our previous perception of The Horrors as a jokier tongue-in-cheek "goth" thing didn't sit well with us, but that changed after hearing their new direction on
Skying
, which surprisingly includes LOTS of hidden gems. "Endless Blue" really starts to take off about 90-seconds in... Wait for it........
92 Wild Flag "Electric Band"
Ass kicking 90's indie-rock chicks from Helium and Sleater-Kinney formed like Voltron and spawned Wild Flag. We were among those who were sorely missing the presence of both bands within the rock-music spectrum, so a combination of these two were hugely welcomed. Had this mix been expanded to 200 songs, at least half of this LP would have placed.
91 Slices "Modern Bride"
We don't know a whole lot about the loud awesome punk rock in Slices, but their album art is among our favorite of 2011 simply because we were convinced that the window reflection was actually behind us, and then we turned around and it totally wasn't there.
| Continue to Page 2 |
|
#100 - 91
|
#90 - 81
|
#80 - 71
|
#70 - 61
|
#60 - 51
|
|
#50 - 41
|
#40 - 31
|
#30 - 21
|
#20 - 11
|
#10 - 1
|