"Hot Mix 2011" On Spotify
|
#100 - 91
|
#90 - 81
|
#80 - 71
|
#70 - 61
|
#60 - 51
|
|
#50 - 41
|
#40 - 31
|
#30 - 21
|
#20 - 11
|
#10 - 1
|
40 Danger Mouse & Daniele Luppi featuring Jack White "Two Against One"
We were surprised to learn that Jack White actually had nothing to do with the songwriting on the
Rome
LP. He owned the vocal performance so hard that it was tough for us to tell the difference. It sucks that White Stripes called it quits this year, but if the past few years have been any indication, Jack should continue appearing in our "best of the year" as long as he keeps up with more badass collabs like this one.
39 Tyler The Creator featuring Frank Ocean "She"
2011 was the year the word "swag" lost its swag. We can all thank @fucktyler for that. "Swag" also superfluously appears in "She," possibly the creepiest and most sinister-sounding single of 2011. With a beat like a severely warped R. Kelly slow-jam, it sounds like eating out a chick while tripping on mescaline. Truly unique, much like its video. Tyler is without question his own biggest fan, proven by his Twitter account where he often posts his own lyrics, like "You So Mothafuckin Gorgeous" which partially assisted in reminding us of this song's existence a month or so after
GOBLIN
's release. From that point forward, the bizarre keyboard hooks were brain-lodged for at least a month. Say what you want about Odd Future, but they produce some of the most unexpectedly musical and well-structured hiphop in recent memory.
38 Action Bronson "Get Off My P.P." / "Albino Gorilla"
Such an amazing year for hiphop... A year when a fat ginger dude seems lined up to be the next Ghostface Killah. And to help matters, the samples REALLY sound like RZA. We especially love the tambourine in "Get Off My P.P." Underground is coming up from behind in a big way. We mentioned this often in last year's list also, but it wouldn't surprise us if the next underground revolution starts taking-over very soon. All we need is "The Nirvana of Hiphop" which we assumed was OFWGKTA, but over the past year they started to seem more like hiphop's Fugazi. Either way, abundance of fresh talent gets us psyched. (We can't find "Albino Gorilla" streaming anywhere, but it's on the official
Hot Mix 2011 Spotify playlist
!)
37 Bon Iver "Perth"
Except for "Perth," the songs on Bon Iver's 2011 album aren't particularly memorable after the first listen. However, we still haven't shaken the memory of "sitting at the computer and crying" due to being completely unprepared, since no one told us this was the most emotionally-drenched LP since Sigur Ros's "parenthesis" album. Apparently, people really love crying, because this dude got fuckin REAL paid in 2011. Great job Bon. You made everyone cry, and then you took their money. There's a word for that... I believe that word is ASSHOLE.
36 Neon Indian "Polish Girl"
We're not sure if it's "Polish" like a girl from Poland, or if it's "polish" like furniture-polish. Or maybe it's intended to be mysteriously ambiguous. In either case, we love Neon Indian for being possibly the first artist to incorporate 8-bit Nintendo patches for something deeper than gimmickry. Subtle Nintendo noises effortlessly flow through some druggy shoegaze. Also we love tape-warp. MORE TAPE-WARP.
35 Metronomy "The Look"
We're not sure if it's "Metro-Nomy," like when Wesley Willis used to sing "This band played at The Metro / About 3000 people were at the show / The jam session was awesome / The show was a knockout." Or if it's like "Metronome-y," like when N*E*R*D used to sing "You were the heart I owned / the beat just like a metronome." Shit... We're running low on ideas here. "The Look" was another one of those songs like "Pumped Up Kicks" where the outro went on for too long, although we like the outro in this case, so whatever...
34 LMFAO "Party Rock Anthem"
Does he say "Led Zeppelin?" LMFAO wins because they wrote one of the most enormously gigantic choruses of the decade. It's fucking so awkwardly massive that everyone was like, "great, now that we have this huge chorus, what do we do with it?" Simple enough answer: You party all over it, with the option of crazy dancing, preferably like LMFAO dances in their videos, although Andrew WK-esq headbanging is also acceptable.
33 Drake "Marvins Room"
Kavinsky, Frank Ocean, The Weeknd... Drake fell right in line, getting super-dark on his tribute to late-night drunk-dialing. Most of the song sounds like he might actually be exuding universal emotion, easy to relate for anyone who's experienced "the one who got away." But then at the very end, he adds "I've had sex four times this week, I'll explain / Having a hard time adjusting to fame." And it's at that exact moment when "Marvins Room" becomes Drake's
Pinkerton
, although
Pinkerton
's lyrics were bizarre enough that many people didn't initially realize Rivers Cuomo was writing about his own life, whereas Drake is more blunt and direct, and as a result, more annoying. (Compared to "Marvins Room,"
Pinkerton
is as cryptic as "Heart Shaped Box.")
It may also go without saying that Drake is embarrassingly desperate to gain street cred. His "life" and the "problems" he sings about are pretty much all bullshit. No one should be proud to include him in their "best of the year." We very much want to hate him, but we can't deny this as one of the definitive songs of 2011. Maybe he'll jump the shark next year. We can only hope.
32 Frank Ocean "Songs For Women"
"I couldn't play guitar like Van Halen." So instead, he steals your girlfriend singing like like Frank Ocean. "Songs For Women" was our introduction to Frank just prior to Nostalgia, Ultra getting posted as a free download. He was initially described to us as Odd Future's answer to Drake, except Drake's a fucking nerd who tries too hard, whereas Frank exudes copious coolness and charm. He can even make chicks laugh with his silly "la da dada daaaaa." Elsewhere, we found that Frank is also a misunderstood rebel without a cause. But when he needs to lay it down for the ladies, you know it's on. LIKE LA DA DADA DAAAAAAA
31 Nas "Nasty"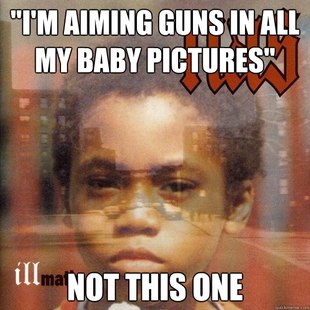 We wish Nas would drop singles like this more often. He hasn't been this on-point since "Made You Look," which was like, what, 9 years ago? Sick beat too. "The actress that played Faith Evans." Also we can't believe it took Nas this long to release a song called "Nasty."
| Continue to Page 8 |
|
#100 - 91
|
#90 - 81
|
#80 - 71
|
#70 - 61
|
#60 - 51
|
|
#50 - 41
|
#40 - 31
|
#30 - 21
|
#20 - 11
|
#10 - 1
|