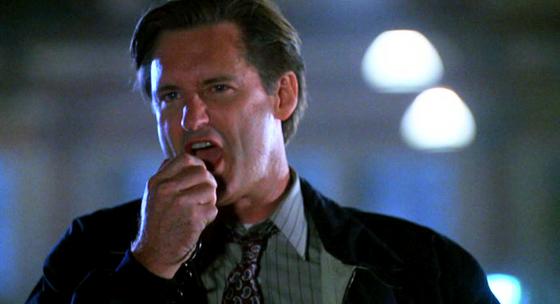 We're upset with ourselves for letting this become a project. For anyone who was wondering, all of the commentary and most of the placements were impulsively determined during amnesia or while intoxicated (referring to literal amnesia, meaning waking up the next morning and seeing words and images with no memory).
35 songs remain... The top 5 or 6 is pretty much set at this point, so at least that part won't be a joke. OCD is the only reason this is getting completed. Otherwise, this is probably the biggest waste of time ever...
We will admit to a handful of these songs being downright horrendous... Tracy Chapman and Color Me Badd stand out specifically. Pist-On was pretty much included as a joke. The Spice Girls choice isn't anything earth-shattering, but was mostly included due to nostalgia. "Some Days Its Dark" by Death Lurks is technically not really a song, but rather more of a Kids In The Hall comedy skit.
Beyond those duds, the strength of this list overall is surprising, especially considering the upsurge of negative hindsight that "1996" specifically generates,
which actually started before the 90's had even finished
. (Eddie Bauer lol. Soul patches lol.) For the most part, any 50 randomly selected songs from this mostly arbitrary selection would outweigh the top 50 songs from any of the past 5 or 6 years. Which is remarkable, since technically we still haven't posted the very best of 1996 just yet.
Here's what the list looks like so far. Two more posts are coming, with (hopefully) one happening very soon...
233. Pist-On "Grey Flap"
232. R.Kelly "Down Low"
231. Local H "Fritz's Corner"
230. Ghostface Killah "Daytona 500"
229. Akinyele "Put In In Your Mouth"
228. Toni Braxton "You're Making Me High"
227. Death Lurks "Some Days It's Dark"
226. Tom Petty "Asshole"
225. Replicants "Destination Unknown"
224. 2Pac "I Ain't Mad at Cha"
223. Tracy Chapman "Give Me One Reason"
222. Marilyn Manson "The Beautiful People"
221. Tuscadero "Hollywood Handsome"
220. Spooky Ruben "Running Away"
219. Donna Lewis "I Love You Always Forever"
218. Toadies "Away"
217. Dr. Octagon "No Awareness"
216. Radiohead "Talk Show Host"
215. Satyricon "Mother North"
214. Mariah Carey "Always Be My Baby"
213. eels "Novacane For The Soul"
212. Republica "Ready To Go"
211. Jeru Tha Damaja "Ya Playin Ya'self"
210. Xzibit "Paparazzi"
209. Mogwai "Ithica 27-9"
208. Foo Fighters "Big Me"
207. Butthole Surfers "Pepper"
206. Cibo Matto "Know Your Chicken"
205. Sublime "What I Got"
204. Burzum "Rundgang um die transzendentale Säule der Singularität"
203. Z-Rock Hawaii "The Meadow"
202. LL Cool J "Loungin' (Remix)"
201. Spoon "All The Negatives Have Been Destroyed"
200. MC Lyte "Cold Rock A Party"
199. Pearl Jam "Mankind"
198. Polvo "Feather Of Forgiveness"
197. 112 "Only You"
196. Rage Against The Machine "People Of The Sun"
195. Color Me Badd "The Earth The Sun The rain"
194. The Lemonheads "If I Could Talk"
193. Stone Temple Pilots "Tumble In The Rough"
192. Nada Surf "Stalemate"
191. The Cardigans "Been It"
190. Porno For Pyros "Kimberly Austin"
189. Aaliyah "4 Page Letter"
188. Blahzay Blazhay "Danger"
187. Silkworm "Nerves"
186. The Fu-Gees "Fu-Gee-La"
185. En Vogue "Don't let Go (Love)"
184. Cannibal Corpse "Puncture Wound Massacre"
183. Crush "Jellyhead"
182. Heatmiser "Plainclothes man"
181. Alec Empire "The Peak"
180. Z-Rock Hawaii "Piledriver"
179. Foxy Brown featuring BLACKStreet "Get Me Home"
178. Ween "Piss Up A Rope"
177. Smashing Pumpkins "God"
176. Primitive Radio Gods "Standing Outside a Broken Phonebooth With Money in My Hand"
175. Quad City DJ's "C'mon and Ride It (The Train)"
174. Ghostface Killah "Iron Man"
173. Sebadoh "Mind Reader"
172. Garbage "Stupid Girl"
171. The Cardigans "Losers"
170. Aphex Twin "Milkman"
169. Ginuwine "When Doves Cry"
168. The Wesley Willis Fiasco "Jesus Is The Answer"
167. Sleater-Kinney "I Wanna Be Your Joey Ramone"
166. Spice Girls "Say You'll Be There"
165. They Might Be Giants "XTC Vs. Adam Ant"
164. Rammstein "Das Alte Leid"
163. Nas "Take It In Blood"
162. Sloan "Everything You've Done Wrong"
161. 2Pac featuring Dr. Dre "California Love"
160. RL Burnside "Goin' Down South"
159. The Cure "Mint Car"
158. Dr. Octagon "Girl Let Me Touch You"
157. Sublime "Same In The End"
156. Pavement "Painted Soldiers"
155. Big Shug "Crush"
154. Butthole Surfers "The Lord Is A Monkey"
153. Heltah Skeltah "Leflaur Leflah Eshkoshka"
152. Destroy 2 (Eye and Chu) "24H?"
151. Fu Manchu "Solid Hex"
150. LL Cool J "Doin' It"
149. No Doubt "Don't Speak"
148. Chavez "Tight Around the Jaws"
147. Carnun "The Prophecies Of The Horned One"
146. The Fugees "Killing Me Softly"
145. Rage Against The Machine "Bulls On Parade"
144. Aaliyah "Got To Give It Up"
143. Rake "Special Agent: Rake"
142. The Verve Pipe "Photograph"
141. Local H "Lovey Dovey"
140. Ween "I'll Miss You"
139. Supergrass "Going Out"
138. GZA "Shadowboxing"
137. Air "Modulor Mix"
136. Turbonegro "The Midnight NAMBLA"
135. Radiohead "Molasses"
134. Keith Sweat "Nobody"
133. Eldopa "The Burning"
132. Ben Folds Five "Where's Summer B?"
131. Guided By Voices "Cut-Out Witch (Peel Session)"
130. Bongzilla "Lighten Up"
129. OMC "How Bizarre"
128. Jay-Z "Cashmere Thoughts"
127. Pulp "Mile End"
126. Ghostface Killah "All That I Got Is You"
125. Pearl Jam "Habit"
124. Harry Pussy "Ride A Dove"
123. The Posies "Grant Hart"
122. Aphex Twin "Cornish Acid"
121. Soundgarden "Ty Cobb"
120. Space Needle "Before I Lose My Style"
119. Outkast "Wheelz Of Steel"
118. The Swirlies "San Cristobal De Las Casas"
117. Ash "Oh Yeah"
116. Nada Surf "Deeper Well"
115. Beck "High 5 (Rock The Catskills)"
114. Mr. Dibbs "B-Boys Revenge '96 (Porkopolis Turntable Jazz)"
113. Dr. Octagon "halfsharkalligatorhalfman"
112. Brendan Benson "Emma J"
111. Superdrag "Destination Ursa Major"
110. Prodigy "Firestarter"
109. DJ Shadow "Napalm Brain/Scatter Brain"
108. The Beatles "Real Love"
107. Sponge "Wax Ecstatic (To Sell Angelina)"
106. Polvo "Bridesmaid Blues"
105. Brujeria "Hermanos Menendez"
104. My Bloody Valentine "Map Ref 41N 93W"
103. Counting Crows "A Long December"
102. Spazz "WWF Rematch At The Cow Palace (Aluta Continua)"
101. DJ Kool "Let Me Clear My Throat"
100. Weezer "Devotion"
99. Busta Rhymes featuring Ol' Dirty Bastard "Woo-Haa! I Got You All In Check"
98. No Doubt "Happy Now?"
97. Redman "Whateva Man"
96. Bush "Swallowed"
95. Failure "Solaris"
94. White Town "Your Woman"
93. Beck "Readymade"
92. Satyricon "Nemesis Divina"
91. Brainiac "Hot Seat Can't Sit Down"
90. The Presidents Of The United States Of America "Mach 5"
89. The Pharcyde "Runnin'"
88. Ween "You Were The Fool"
87. Guided By Voices "Official Ironmen Rally Song"
86. The Swirlies "In Harmony New Found Freedom"
85. Soundgarden "Rhinosaur"
84. Eyehategod "Masters of Legalized Confusion"
83. Local H "I Saw What You Did And I Know Who You Are"
82. Pavement "Give It A Day"
81. Tool "Ænema"
80. Smashing Pumpkins "Pennies"
79. John Parish and Polly Jean Harvey "That Was My Veil"
78. Pearl Jam "Smile"
77. Fountains Of Wayne "Sink To The Bottom"
76. DJ Shadow "What Does Your Soul Look Like (Part 4)"
75. Rage Against The Machine "Down Rodeo"
74. Weezer "The Good Life"
73. Failure "Stuck On You"
72. Stone Temple Pilots "Ride The Cliche"
71. Aphex Twin "4"
70. Lil Kim "Crush On You"
69. Spazz "Donger"
68. Sneaker Pimps "6 Underground (Nellee Hooper Edit)"
67. The Olivia Tremor Control "Jumping Fences"
66. Turbonegro "I Got Erection"
65. BlackSTREET featurning Dr. Dre "No Diggity"
64. Jon Spencer Blues Explosion "Wail"
63. Dr Octagon "Earth People"
62. Unwound "Unauthorized Biography"
61. Failure "Pitiful"
60. Atari Teenage Riot "Deutschland (Has Gotta Die)"
59. The Pharcyde "Drop"
58. The Cardigans "Lovefool"
57. Chemical Brothers "Setting Sun"
56. Mortician "Embalmed Alive"
55. Jamiroquai "Virtual Insanity"
54. Soundgarden "Pretty Noose"
53. Mobb Deep "GOD Part 3"
52. Beck "Sissyneck"
51. Tool "Stinkfist"
50. Unwound "Corpse Pose"
49. Jay-Z featuring Foxy Brown "Ain't No N****"
48. Fiona Apple "Shadowboxer"
47. Elliott Smith "Speed Trials"
46. Stereolab "Spark Plug"
45. Wilco "Misunderstood"
44. Stone Temple Pilots "Big Bang Baby"
43. DJ Shadow "Stem/Long Stem"
42. Fountains Of Wayne "Radiation Vibe"
41. OutKast "ATLiens"
40. Weezer "Across The Sea"
39. Beck "Devil's Haircut"
38. Underworld "Born Slippy"
37. Olivia Tremor Control "Can You Come Down With Us"
36. DJ Shadow "The Number Song"