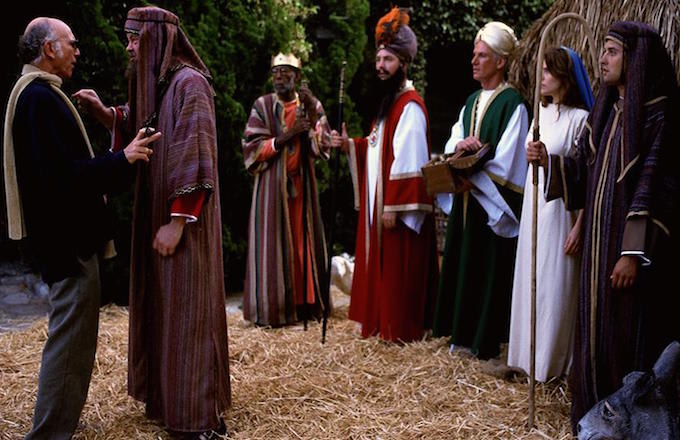 This was the most Christmas-y December we've experienced in a while. We enjoy Christmas specials. We like old ones that we haven't seen in a while, and also more recent ones if they're weird enough. This is a more recent tradition that developed over the past 4 years. Last year, a few good ones included
He-Man and She-Ra: A Christmas Special
and an old
X-Files
episode called "How The Ghosts Stole Christmas" where these old ghosts try to convince Mulder and Scully that they should bone.
We enjoy the nostalgia, so we might consider indulging more specials throughout future Decembers.
Here's what we saw this year:
1. Eyes Wide Shut
"
Die Hard
is the best Christmas movie." Okay, we get it. No one who tweets this is being original. Maybe we'll watch it next year.
Eyes Wide Shut
is not as heavy as we remembered, but it's a good one for sure.
2. A Muppet Family Christmas
This might be our favorite Christmas special. We've watched it on Youtube for the past 3 Decembers, and it just had its 30 year anniversary. We read into it a bit just now in the Jim Henson biography; shot very quickly in Toronto three months before it aired, this show was the first time
The Muppet Show
gang had been on TV or in movies in nearly 4 years. Frank Oz returned to puppeteering after a long absence, and the characters from
Sesame Street
,
Fraggle Rock
and
The Muppet Show
all partied in one house during a Christmas snowstorm. The Fraggles' song "Pass It On" is one of our new favorite Christmas songs. Show lit.
3. A Garfield Christmas
Also celebrating its 30 year anniversary. Haven't seen this since we were about 10, and it was one of those moments when we realized we must have had some of the dialogue memorized at one point, which is an eerily bizarre experience.
4. Will Vinton's Claymation Christmas Celebration
1987 must have been the dopest year in the history of Christmas special premieres since this one also just turned 30.
5. "Mary, Joseph and Larry"
2002 episode of
Curb Your Enthusiasm
. Larry gets caught checking out one of the ladies in the nativity scene or something.
6. Christmas Eve On Sesame Street
Curiously structured 1978 special. The main story with Big Bird waiting on the roof for Santa during a snowstorm was kinda sad. Cookie eats the Christmas tree and Oscar sings "I Hate Christmas."
7. "Abed's Uncontrollable Christmas"
We have watched this for the past 3 years on Hulu, and it gets better every year. We are not fans of
Community
(at all) but this is essentially a stand-alone holiday special that doesn't require context from the rest of the series.
8. "Anatomy Park"
Earlier this year, we heard mild speculation about a possible
Rick & Morty
long-form Christmas special or a contained holiday serial comprising 2-4 original episodes. It was not meant to be, but "Anatomy Park" is still the shit.
"Pearl Harbor."
9. "Sabrina's Christmas Wish"
We're guessing many fans of
Bojack Horseman
don't realize this episode exists since it was a Netflix bonus between seasons 1 & 2. It's essentially an old episode of
Horsin' Around
that gives some context into how bad the show actually got. There's a really good off-camera audience member who repeatedly shouts his reactions instead of laughing.
10. "Twas The Night Before Christening"
Everyone in the
Fresh Prince
house buys extravagant presents for the baby's Christening except for Will who buys him a "king" hand puppet, and he does this really cool pantomime record scratching beat boxing thing with the puppet. And we felt kinda bad for him since we thought that was a really good present. Will somehow figures out where Boyz II Men are recording and they kick his ass twice because he stole one of their girlfriends when they all lived in West Philly. Fun times.
11. Friday After Next
This is a terrible movie.
12. Emmet Otter's Jug Band Christmas
We haven't seen this since the late '80s on HBO, and there were no free streams on Youtube or anywhere else. And even if we did cough up the cash for an Amazon rental stream, HBO and ABC had different edits so we wouldn't have seen the entire show. (Apparently, the ABC version removes all of Kermit The Frog's narration.) However, someone on a torrent website was kind enough to throw together a fan version that combined everything from the two separate edits.
The juxtaposition of the River Bottom Gang might have felt more extreme had we been seeing this for the first time. It's such a jarringly surreal element taking a dump all over this sweet heartwarming Christmas story. Again, we felt compelled to read into this in the Jim Henson biography earlier tonight; sure enough, Jim's favorite song in this was the River Bottom Nightmare Band's proto-metal jam. The Jug Bang's version of "Barbecue" is also pretty lit.
13. "Christmas Caroling" and "Searching For Santa"
It wouldn't be Christmas without a couple Stella shorts.
----------------------------------------------------------------
After reading into
A Muppet Family Christmas
and
Emmet Otter's Jug Band Christmas
, we started to dig deeper and found a holy grail type of project that began as early as 1985. It seems like the project would have gone into production sooner had Disney not interfered with Jim Henson's affairs. Jim wanted to wait until the Disney deal was completed before starting the film, which gave his creative team nearly three years to brainstorm, throw around jokes and discuss the extent of this project's potential absurdity.
The Cheapest Muppet Movie Ever Made
actually had multiple completed screenplay drafts. Gonzo is granted permission to direct his own film, and he blows almost the entire budget on an elaborate opening sequence. The rest of his film progressively gets lower in quality until finally the last few scenes are comprised of drawings, slides and storyboards.
More info here:
http://muppet.wikia.com/wiki/The_Cheapest_Muppet_Movie_Ever_Made!