| Follow "Straight Fire 2017" on Spotify |
|
#200 - 166
||
#165 - 131
||
#130 - 101
||
#100 -71
||
#70 - 41
||
#40 - 21
||
#20 - 1
|
| All 200 Songs |
70. Ariel Pink "Bubblegum Dreams"
69. Migos "Stir Fry"
Still confused whether this is a Neptunes beat or not. It sounds like Pharrell tried to emulate the sample from that KRS-One song (apparently called "Step Into A World" - we're not KRS-One experts so forgive us).
68. Cannibal Corpse "Code of the Slashers"
We love George Corpsegrinder. We would vote for him if he ran for office. Here are 6 things we learned about him when
he was interviewed by a cool little kid
back in November:
#1 He likes Christmas trees, especially the tree lighting in Manhattan.
#2 He's ok with saying "fuck fuckity fuck" in front of children because he's in Cannibal Corpse.
#3 He owns a replica of a sword from World Of Warcraft that steals people's souls.
#4 He buys Christmas presents for his two daughters at Target.
#5 "Why can't we come together and respect everybody? We're just trying to live in this world." It's true.
#6 His neck is the same width as two or maybe three average-size necks all pressed next to each other.
67. I Hate Sex "And Yet It Moves"
66. Homeshake "Khmlwugh"
65. No Age "Soft Collar Fad"
We LIKE that they ripped off "Been A Son." The world would improve as a whole of more bands did this. We want more "Been A Son" rip off songs. No Age's new album was not on Spotify for its first few months after release, which we later realized was a Drag City thing, although it would not have surprised us if it were a No Age thing. In the past, they've expressed similar anti-corporation pro-DIY alignment. Before this realization, we assumed the decision was made specifically for people like us who had strong intent to purchase a physical copy and sought an album preview without spending $9 on mp3s. Soulseek to the rescue. It's been years since we illegally downloaded an album before buying, which gave us nostalgia for back in the
Nouns
days. And yes, the album does completely rule, and we gladly shelled out real money for the record (their 2nd best!) because No Age is still the best band of the last 10 years, and they're fucking worth it.
Long live The Smell
.
64. Maren Morris "I Could Use a Love Song"
We probably could have placed other songs from
Hero
higher than this one, except this is one of the few that technically qualifies as a true 2017 jam since the single charted exclusively during that year. The wiki discography reports a few stations added "Rich" back in February 2018 (possibly pushed to radio as a precaution in case country fans opted to not fuck with "The Middle"). So is the
Hero
album cycle technically still happening? We're unfamiliar with the way country radio works, so maybe this is a normal thing. (Taylor Swift, for example, usually waits 4-6 months before a new song/video gets added to playlists, similar to how they used to promote mid-'90s blockbusters like
Jagged Little Pill
n stuff.) Either way, "I Could Use A Love Song" is fair game for 2017. She sings about how love songs are the same as drugs or something. It's great.
https://www.youtube.com/watch?v=9UcyrWn5uAw
63. David Nance "Cruel Kind of Love"
62. The Rubs "Amy"
We could have (and probably should have) tied "Amy" with the other three parts of its conceptual tetralogy, "Judy," "Ruby" and "Emily." We would be surprised if they're not about the same person.
61. Grandaddy "I Don't Wanna Live Here Anymore"
There are more devastating realizations than figuring out just after settling, after years of preparation, that the goal you've been working towards is not actually what you wanted at all. It might be a new job, or a college degree, or a marriage, or moving to a new city. After the exciting journey brings you to your happily-ever-after, where do you go from there? Ever since the similarly pensive "It's The Weekend" back in 2009, Jason Lytle's lyrics have gravitated more and more towards
Plastic Ono Band
levels of simplicity. "Mama don't go, daddy come home" repeated over and over again. Rigidly direct prose.
https://www.youtube.com/watch?v=tMiOs6hRLYA
60. Nnamdi Ogonnaya "let gO Of my egO"
The 11K meme posted here has something to do with the value of Bitcoin but we didn't feel like reading into it. We just really wanted a picture of Eleven stealing Eggos to go along with "let gO Of my egO." Its
rambunctious video
dropped in January 2017; since that time, Nnamdi reflects that "all of my bones are solid gold and my pee finally taste like sweet baby rays." No longer a sooper secret side project, Nnamdi's solo adventures sprawl across
DROOL
with odd contrasts: The disjointedness IS the cohesion. Speaking of "flip it and reverse it," "egO" was responsible for Bubba Sparxx "Ugly" and Missy's "Get Your Freak On" getting stuck in our heads out of nowhere every few weeks, even though its BPM is a lot slower, typically leading to the inevitable head-nod that gave way to up and down headbanging. That kid's onto something big.
59. Lil B "Bad Mf"
58. Leikeli47 "Miss Me"
"Fuck a fair one, I get mine the fast way. Ski mask way."
Leikeli47's ski mask (shown in the pic to the right switched out with one of many various obscuring devices in the "Miss Me" video) expresses many things: alluring mystery, anonymity, anti-image, anti-patriarchy, a possible MF Doom nod. Also, she probably gets yelled at whenever she walks into 7-11. (At least that's what happens to us when we forget to remove our ski mask before grabbing some Big Gulp.) It actually surprises us that it's taken until now, roughly 40 years into hiphop's history, for a reasonably prominent underground rapper to own the ski mask as a crucial element of their aesthetic. More importantly, her flow is arguably the freshest from any class of '17 rapper, and she deserves to blow the fuck up today. Pharrell & Missy: Don't sleep on this.
https://www.youtube.com/watch?v=V9WCVjuPqR4
57. Nelly Furtado "Live"
56. Animal Collective "Kinda Bonkers"
The initial 3-4 month coping period after Trump's election affected Twitter users in some unexpectedly strange ways. For some bizarre reason, lots of people started overusing "bonkers" on Twitter between November 2016 and February 2017. During this era, the editors of Pitchfork opted to include this word in their headlines several times, but it has not appeared at all since then. People who used this word on the internet likely never uttered "bonkers" out loud, let alone in public, and many of them claimed that "bonkers" had always been heavily used in their normal everyday vocabulary. (Coincidentally, these are the same people who posted the Meryl Streep "yelling at the Oscars" meme multiple times.) Apparently, Animal Collective fell victim to this same bizarre trend. A true artifact of the era, "Kinda Bonkers" probably would have placed higher otherwise.
https://www.youtube.com/watch?v=ikl16iLeHIY
55. Aye Nako "The Gift of Hell"
54. Kelela "LMK"
https://www.youtube.com/watch?v=ePi5BLJogyA
53. Good Morning "Oppsie"
52. Maneka "Power (feat. Katie Capri)"
We think this song is pretty cool. Follow Vitti's Instagram at @FireDank420.
51. Lil Peep f/ Lil Tracy "Awful Things"
On the afternoon of November 17, 2017, we just happened to find ourselves at The Observatory in Santa Ana, California. Not far from our van, we spotted a bunch of lit candles inside of a small fenced off area in the parking lot. It seemed out of place until we realized it was left there from a candlelight vigil. The Observatory was Lil Peep's first cancelled tour date following his fatal ingestion less than 24 hours prior in Tuscon, Arizona. We had all been saddened by the news, and so we went to take some video of the remaining 20 or 30 candles with a freshly acquired Pixel. A mysterious bump suddenly sent the phone crashing onto a sharp section of the fence. Part of the screen was cracked, although the phone still worked ok. From that day forward, we felt the spirit of Lil Peep within that Pixel. (It was tough to forget the circumstances.) The crack enlarged about a month ago when we accidentally dropped a set of keys on the screen. The phone's been swapped out and replaced. We're guessing it was quickly refurbished and sold to a new owner who has no idea that a piece of one of the true emo-rap legends rests so close to them, protecting from certain doom. "Awful Things" is the song that Good Charlotte (his favorite band) was asked to perform at his funeral. We know he frequently sampled emo tracks from the early 2000s; yet despite "Awful Things" suspiciously Blink-193 intro, it's one of the guitar parts that Lil Peep wrote and recorded on his own. He was just getting warmed up, and likely had a bank of ideas stored and ready for
Pt. 2
. Tragic as fuck.
50. David Nance "River With No Color"
49. Jason Loewenstein "Machinery"
48. Lil Yachty "Priorities" / Lil Yachty "Shoot Out The Roof"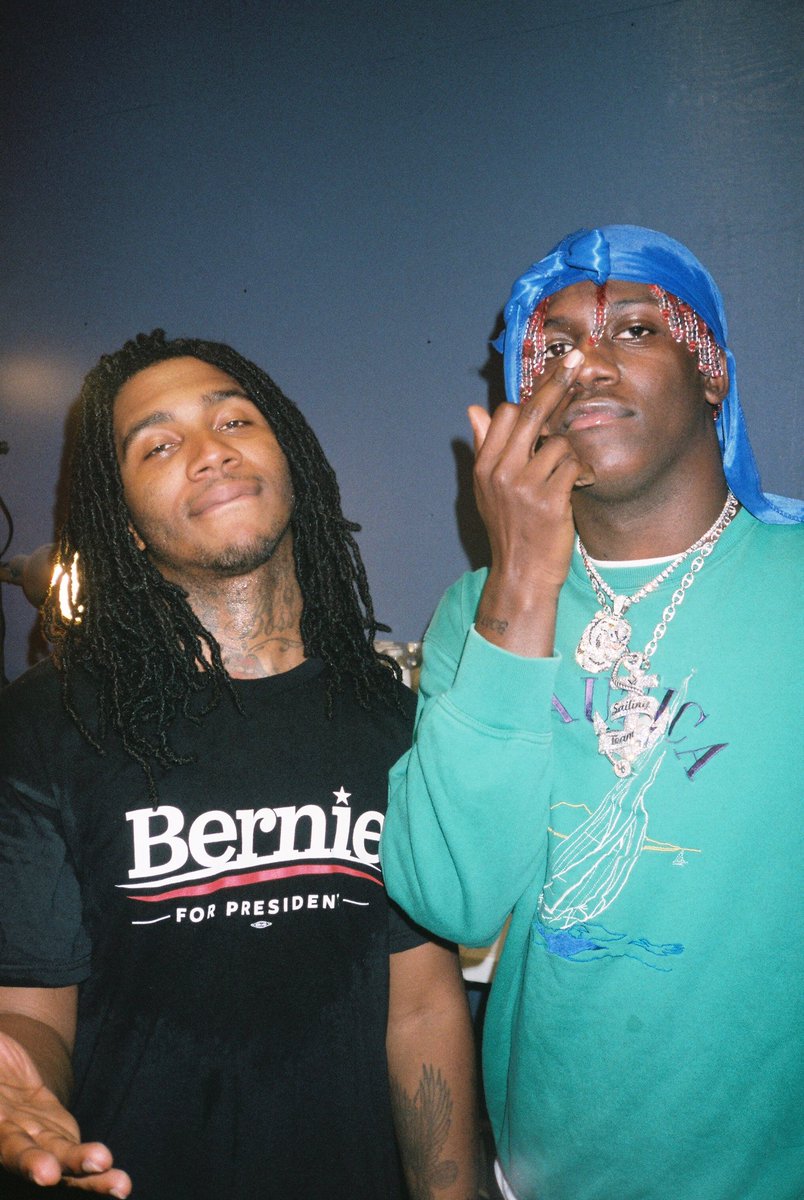 Yachty is currently the only artist in hiphop who collaborated with Kehlela, Charli XCX and Carly Rae Jepsen throughout 2017. It took us a minute, but we eventually realized his presence was crucial throughout this year, and "Priorities" was the song when we finally "got it."
"Fuck school / Fuck the rules."
He directly descends from Lil B. Now it all makes sense. "Priorities" is also among the moments that came closest to the essence of the album title
Teenage Emotions
. Of course, it took until we heard a deep cut on his major label debut before deciding "Soundcloud rap is now a good thing." We don't think it was entirely Yachty's fault that the album suffered. After all, this was Lil Yachty's first major label album. "Getting signed" is a responsibility that Lil B has yet to accept. He never had to deal with record companies fronting the cost of recording and publicity, breathing down his neck and forcing terrible songs onto what could have otherwise been a pretty dope record. Lil B's worst songs are the ones that HE made that way. Big-business has nothing to do with his decisions. He can wear his Bernie 2016 shirt as much as he wants for that very reason. He can portray himself anyway he wants. Yachty seems to have entered 2018 rightfully frustrated with the music business, quickly recording and self-releasing the dark and in-your-face
Lil Boat 2
mixtape. Perhaps it's turned him cold, and he's grown unhappy with the fun-loving, youthful experimentation and exploration of "Priorities" or "Shoot Out The Roof." They might be the two best rap songs he'll release for a while.
47. Lil B "Ain't Me"
https://www.youtube.com/watch?v=Urzsmd0Zra0
46. Syd "Insecurities"
https://www.youtube.com/watch?v=lK-F66tdQvM
45. Mahmundi "Imagem"
https://www.youtube.com/watch?v=8sEabeiriKI
44. GoldLink f/ Brent Faiyaz & Shy Glizzy "Crew"
43. Courtney Barnett & Kurt Vile "Over Everything"
42. Mount Eerie "Ravens"
41. Cloakroom "The Sun Won't Let Us Go"
Red House Painters is cool, but hasn't that Sun Kil Moon asshole already gotten enough props in the past 5 years? Aside from any "Deftones on valium" takes regarding the Cloakroom album as a whole, we'd say the RHP comparisons are definitely all coming from people who've never heard Space Needle, a.k.a. the most underrated Rhode Island band of all time. It's a more subdued sound for Cloakroom, but we did not expect it to immediately make us say, "Holy shit, these guys definitely love Space Needle." It's the intersection of
"Never Lonely Alone"
and
"One Kind Of Lullaby."
We've recently been fitting Cloakroom into a subgenre alongside Superheaven and Teenage Wrist - two other bands playing around with loud verse/chorus structure who we secretly wish would get more angular and strange, but don't necessarily need to.
| Follow "Straight Fire 2017" on Spotify |
|
#200 - 166
||
#165 - 131
||
#130 - 101
||
#100 -71
||
#70 - 41
||
#40 - 21
||
#20 - 1
|
| All 200 Songs |