| Follow "THICC AF 2018" on Spotify |
| 100 - 81 |
| 80 - 61 |
| 60 - 41 |
| 40 - 21 |
| 20 - 1 |
| All 100 Songs |
This is by far the longest it's taken us to finish one of these, and it's technically incomplete in case no one has noticed yet. Most of the entries have no description. The photo editing is now at peak stream-of-consciousness, perhaps reflecting the chaotic, nonsensical, anarchic, apathetic, nihilistic nature of human existence throughout 2018-2019.
#1 2018 was a much better year for albums than singles/tracks/non-album-trx/etc, and the decline has left us disheartened, discouraged, and unmotivated to praise a year of songs that simply weren't as good. We really tried our best to make this feel like a solid representation.
#2 We have already written about many of the artists in this Thicc Mix, especially ones whose tracks represent album highlights. For example, No Age or Uncle Acid or Beak's consistently dope string of releases feels like a no brainer for a list like this -- but we're not good enough at writing to think of anything different to say than what we said last time.
#3 Not as much time as we used to have. Maybe BDE Mix 2019 will all happen throughout January 2020 though. Let's hope so.
So now finally the whole thing is here. The lower quantity of dopeness reflects the drop from a 200 song list down to 100, chosen from a much smaller than usual pool of eligible jams. (On the bright side, it became easier for legit dope jams to shine and place higher than they would have 3-4 years ago.)
Now who's ready to party down???
100. Kali Uchis f/ Tyler the Creator & Bootsy Collins "After the Storm (Pete Rock Remix)" / Kali Uchis "In My Dreams"
99. Gulch "Burning Desire to Draw Last Breath"
98. Sleep "Leagues Beneath"
97. Cash Rivers and the Sinners "Cheap Truck"
Should we just upload this one ourselves? Robert Pollard's weirdo country band released a 69 song album last October, as if there weren't enough 69 song albums in the world. But just to make it all the more frustrating, it's not streaming anywhere. The chorus goes like this "Would you like to take a ride with me in my cheap truck?" The world of streaming media could use some of this.
https://www.guidedbyvoices.com/more-news/2018/9/12/cash-rivers-and-the-sinners-do-not-try-to-adjust-your-set-i-am-the-horizontal-and-the-vertical
96. Sunwatchers "Loop #2"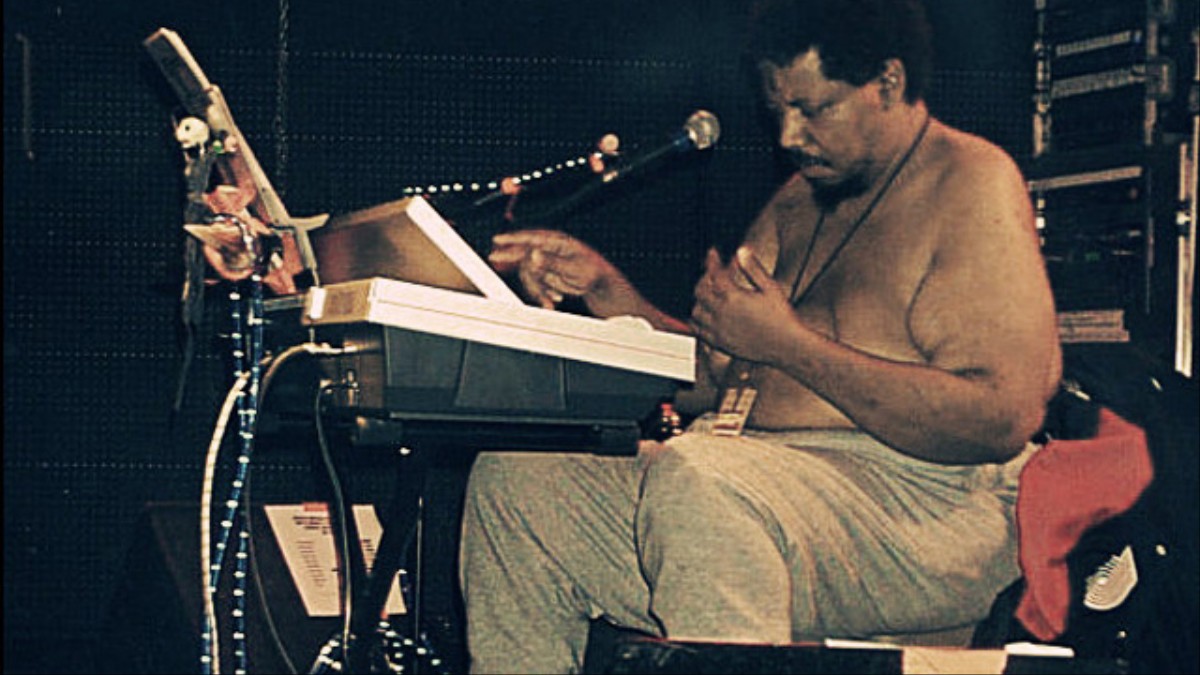 Typically described with tags like avant-jazz, free-rock, psychedelic, and the like, Sunwatchers chose to close out their 2018 odds-and-sods collection with the year's most enticingly strange meditation. It's incredible that this song exists, but how did this happen and why is jam-rock heading in this direction? Our theory all but rules out the possibility that one band members' 7-inch copy of "Too Drunk To Fuck" became scratched to the point where a skip in the vinyl aligned just perfectly enough that Jello Biafra's lyrics change to "I got diarrhea today-hay." With the groove locked in, Sunwatchers' ambiance hovers over the loop as it repeats over 100 times. Thanks to word-association, we can't help but think of frequent diarrhea victim Wesley Willis who released multiple LPs on Jello's record label Alternative Tenticles between the late '90s and early '00s.
95. Ella Mai "Trip"
What would have been one of the decade's most beloved one-hit-wonders became a two-hit-wonder by December as "Trip" hit #1 on Billboard's Rhythmic chart and secured a nice little area in the lower 20 of Billboard's end-of-year Hot 100 (where the generally strongest charting songs of the past few years have hid). Can she turn her streak into a two-album stride? We'll likely find out by the end of 2019. In the meantime, it sounds like "Trip" still gets mad radio spins. So iHeart did at least one thing correctly in the past year. For more info, Ella Mai did
one of those Genius annotation videos
that we weirdly don't hate yet.
94. Deerhoof "Live to Tell"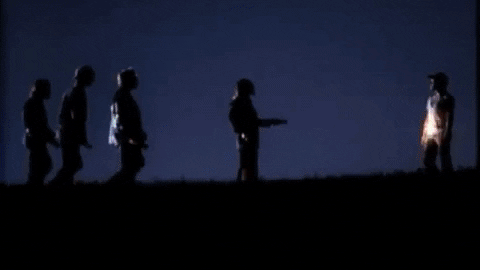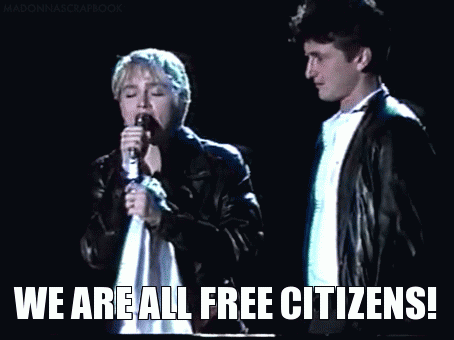 93. Blues Lawyer "Charity Case"
Unjustly missing out on the Grammy for "Best New Band Name."
92. Drake "Nice For What"
Drake: "What's a dick for? Oh, wait. I get it."
https://www.youtube.com/watch?v=U9BwWKXjVaI
91. Lil B "Keke That's My Kitty"
90. Cut Chemist "Moonlightin' With Biz"
89. Baked "Good For You"
We tried to find a gif of Gilbert Gottfried and Beetlejuice yelling "Goo for you" at each other to no avail.
88. Kanye West "Lift Yourself" / Kanye West & Lil Pump f/ Adele Givens "I Love It"
The imaginary 2018 Kanye album that included these and 10-12 other similarly bizarre, unfinished experiments (that likely exist on an external hardrive somewhere) might have been a more appropriate follow-up to the lone artifact from his "disjointedness is cohesion" era -- the sprawling, possibly unfinished, and predictably underappreciated
The Life of Pablo
. Rap's answer to
Third/Sister Lovers
right down to the uncertainty in its last minute title changes,
Pablo
is now probably his most unheralded since
808s
following a pattern of musical influence more clearly defined in hindsight;
808s
was ultimately proven as the single most influential record of the past decade.
More recently, his attempts to subvert modern album-length restrictions feel ripe for the streaming era. With release dates and frequent media assets as overemphasized as ever, releasing 2016's scrapped
Turbo Graffx 16
as a rushed double-LP would have only wasted resources. Why not spread out the public's attention with five release dates instead of one? Make them all EP-length, 20 minutes each, but call them full-length albums anyway. The brevity encourages not only listener engagement but repeated plays. Even better, labeling them full-length dissuades Billboard charts, music writers, and fans from brushing them aside as anything less than a complete artistic statement. And then just for fun, why not bookend these five releases with two extraordinarily bizarre teaser singles that all but reflect any lack of silliness these records might hold? Very few other artists have tried this "extended release period" tactic just yet, but the idea is out there, and there's no reason not to. P.S. Sorry to disappoint, but facts are facts: "Lift Yourself" had 2018's most memorable verse (accurately described in the song itself as "these bars"); meanwhile, the kids on the playground who knew anything about "Story of Adidon" forgot about its existence within weeks.
Lift Yourself:
https://www.youtube.com/watch?v=8fbyfDbi-MI
I Love It:
https://www.youtube.com/watch?v=cwQgjq0mCdE
87. Bruno Mars f/ Cardi B "Finesse (Remix)"
This one actually pisses us off because it proves that Bruno Mars LLC (and his team of thousands) could single-handedly assist the long-awaited comeback of "fun music getting played on FM radio" with just a few easy phonecalls. As for Cardi B, we don't really get the hype surrounding LP1. But we like her, and we suspect her next record might be cool if she doesn't go all fairweather on us like Katy Perry --- which likely wouldn't even be her fault if it did work out that way. Welcome to the machine, Cardi B. This is your life now. Hell awaits you.
https://www.youtube.com/watch?v=LsoLEjrDogU
86. Fritz Welch "The Donal Judd vs Elmer Fudd Inner Space Crisis"
85. Kodak Black "I Get Lonely"
We incorrectly lost hope long ago for emo-trap's eventual dabble in accidental left-of-spectrum outsider-ness. Kodak Black proves us wrong again; like one lost little star, his radiance shines closer to Lil B than Lil Peep. 100% worth the hype.
https://www.youtube.com/watch?v=G7bo6batUH4
84. Roseblood "Black Veil"
Still no word on when this full length is due, but the handful of preview songs in their live sets kick serious ass. Get ready.
83. Hoodboi f/ Tkay Maidza "Glide"
2018's best song about bagel bites. Welcome back Tkay. This is probably her 2nd best song after "U-Huh."
https://www.youtube.com/watch?v=bJG6DFdkqSQ
82. Heele "The Paper Sky"
Godzilla continues his brooding lonely journey. He applied to 5 or 6 veterinarian schools, but still no acceptance letters. He's been swiping left and right for months, but still no matches. Godzilla stays out of everyone's sight because they assume he wants to attack, even though he just wants what we all want.
81. Pusha T "If You Know You Know"
Unpopular take: We were kinda unimpressed with
Daytona
?? And it's not like Kanye's production doesn't always work with Pusha. Afterall, that was the exact team who killed it with "Numbers On The Boards" five years prior. But something feels different here. Maxi-singles used to occasionally run as long as seven songs, and
Daytona
starts to feel that way by the end. The rigid deliberate blueprint of "If You Know You Know" might be Kanye's only 2018 music resembling
The Blueprint
. But then it's follow by six uncooked ideas that might have sounded amazing without the record's loose, wobbly architecture.
And how about that horrific album art?? Did all parties involved seriously think people would just be like "oh cool, that's a great idea for an album cover?" Its embarrassing context should never have been promoted as a selling point. Next time, try keeping it a secret for as long as possible.
| Follow "THICC AF 2018" on Spotify |
| 100 - 81 |
| 80 - 61 |
| 60 - 41 |
| 40 - 21 |
| 20 - 1 |
| All 100 Songs |